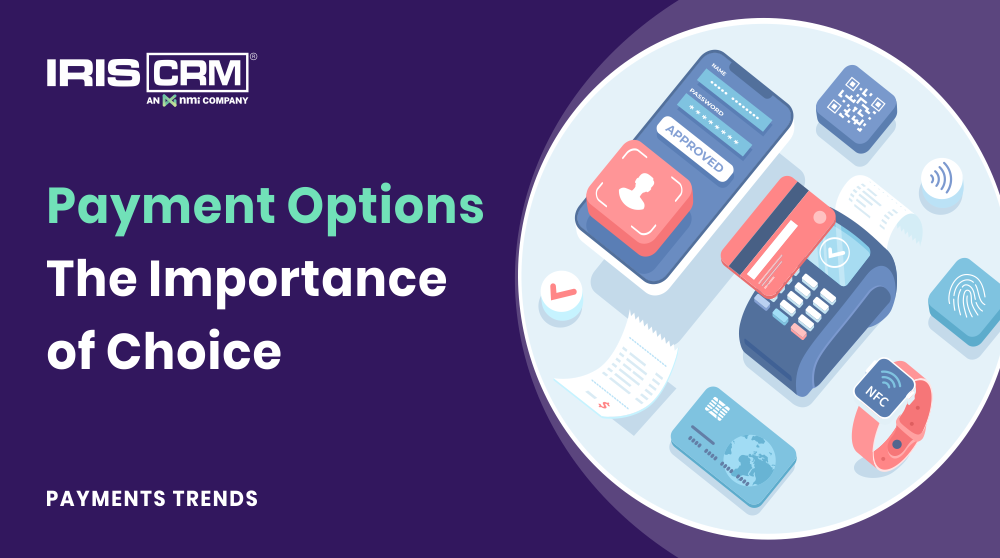 Payment Options: Why Choice is More Important Than Ever
Not long ago, there were really only three ways to pay the vast majority of merchants: you could hand over cash, swipe your credit or debit card at the checkout counter, or enter your credit card details online. Today, advances in payment technology have seen the options available to both consumers and B2B customers explode. From digital wallets to QR codes to mobile terminals to 0%-interest loans at the point-of-sale to direct real-time payments and beyond, in a world of expanding choice, how, where, and when payments are made are no longer the givens they once were. As a result, the forces directing the industry are changing, and the ability to keep up with shifting consumer preferences is rapidly becoming the key pillar on which successful payments companies compete. 
Customer Preference and Quality of Experience are Driving the Payments Industry
When cash or card was the only consideration, not much thought was given to the checkout and payment experience. In-store, a single checkout area was the norm and a line was to be expected. On the web, things weren't much better and, at the very least, most customers could rely on having to type in their credit card info one number at a time. Payment wasn't really a part of the shopping experience; it was just the necessary conclusion that came after. 
Today that couldn't be further from the truth. With so many options available, the payment process is now something customers evaluate merchants on. A frictionless checkout and payment experience – via the method of the customer's choice – is the baseline expectation, increasingly viewed as a core part of any quality shopping experience. 
If a customer wants to buy with a single click and can't, they'll shop elsewhere. If they want to spread out their payment and can't, they'll shop elsewhere. It's that simple. 
The challenge for every layer of the payments industry – from merchants to ISOs to processors to banks – is keeping up with the changes. Not only do new fintechs constantly disrupt the space, but consumer preferences can shift equally as quickly. As a result, merchants can no longer afford to limit the number of payment options they offer. Whereas, once upon a time, stores refusing American Express was the norm, today, refusing basically any payment method puts merchants at a potentially serious competitive disadvantage. 
The result is that merchants are increasingly looking for payment processing partners that can offer them the widest possible suite of payment types. Just like the shift towards omnichannel selling dominated retail a few years ago, today, a similar "omni-payments" shift is underway.
The Modern Payments Options Emerging as Consumer Favorites
When it comes to electronic payments as a whole, credit and debit cards are still king. But emerging channels are rapidly chipping away at the long-standing dominance of traditional plastic. Just a few of the most notable include digital wallets, mobile payments like tap-on-phone, BNPL, and real-time P2P payments. 
Digital Wallets
Digital wallets like Apple Pay and Google Pay have become ubiquitous thanks in no small part to their inclusion as stock features on all Apple products and Android-based smartphones and tablets. Digital wallets are aptly named – they store digital copies of a user's debit or credit cards (and, in some cases, loyalty cards.) Rather than carrying around physical plastic to stores or typing in 16-digit numbers on websites, digital wallets enable consumers to pay instantaneously by tapping their phone on a contactless payment terminal or clicking a single button online. Better still, biometric security like thumbprint and face scans make digital wallet payments highly secure. The combination of convenience and security is the key reason digital wallets are already in use by over 3 billion people, with the number set to exceed 5 billion by 2026. 
Mobile Payments
It's no surprise mobile devices are taking over payments considering the majority of Americans spend over 5 hours per day on their phones. But mobile solutions aren't just making payments more convenient for customers; they're also making payments more accessible for merchants – particularly micro-sized ones – thanks to technologies like tap-on-phone. Tap-on-phone turns any internet-connected smartphone or tablet into an EMV-compliant payment terminal with zero additional hardware required. Alongside other low-cost solutions like plug-in card readers, mobile payments are making it possible for merchants to accept card present, EMV-compliant payments when and where they need to, even on the go, without the need for the traditional payment hardware found at most checkout counters.  
Buy Now, Pay Later
Buy now, pay later payments gained popularity during the global COVID-19 pandemic among all age groups, but especially among Gen Z, who make up a disproportionate number of BNPL users.  BNPL arrangements generally see consumers spread out the cost of a purchase across four zero-interest payments over the course of a couple of months – known as the "Pay in 4" model. It's an attractive option at times when consumers are looking to keep more money in their pockets. Despite leaders in the space struggling through the first half of 2022, BNPL is here to stay, and may soon see growing adoption in the B2B world, as well. With businesses and increasingly-important young consumers looking for BNPL as a payment option, ensuring merchants and, in turn, customers, have easy access to it represents a great way to stay on the cutting edge of the industry.. 
P2P Payments
Peer-to-peer or person-to-person (P2P) payments were initially popularized by money transfer apps like CashApp and Venmo. These payment systems are built on special rails between connected banks and offer near-instantaneous settlement once a payment has been received. That instantaneous and irreversible nature opens up problems with fraud and has traditionally led to recommendations that P2P payments only be used to transfer money to close relatives and friends. But more and more businesses are beginning to offer P2P payments in the wake of strong growth in adoption, driven primarily by the fact real-time settlement is perfectly suited to a space where speed and convenience are increasingly important. In response to increasing adoption and demand, more banks and payment processors are integrating real-time rails. The need for fast, secure P2P payments has become so great that even the Federal Reserve has joined the party, launching the FedNow system that will support uninterrupted real-time payments with a full-scale launch set for summer 2023. 
Offer Merchants More with NMI and IRIS CRM
NMI's full commerce enablement platform is the most complete solution available to payment providers looking to offer a more value-rich, vertically integrated set of services to merchants. NMI's 200+ processors, omnichannel gateway, and wide range of value-added services enable in-store, ecommerce, mobile, and unattended payments, with the flexibility and reliability expected by today's merchants. Partnering with NMI also streamlines the entire merchant acquisition process, making it faster, easier, and cheaper to recruit, underwrite, and onboard new clients, thanks to seamless integrations with IRIS CRM and Agreement Express. 
To find out more about how NMI, IRIS CRM, and Agreement Express can change the way your company sells payment services, reach out to a member of the team or schedule a free guided demonstration today.