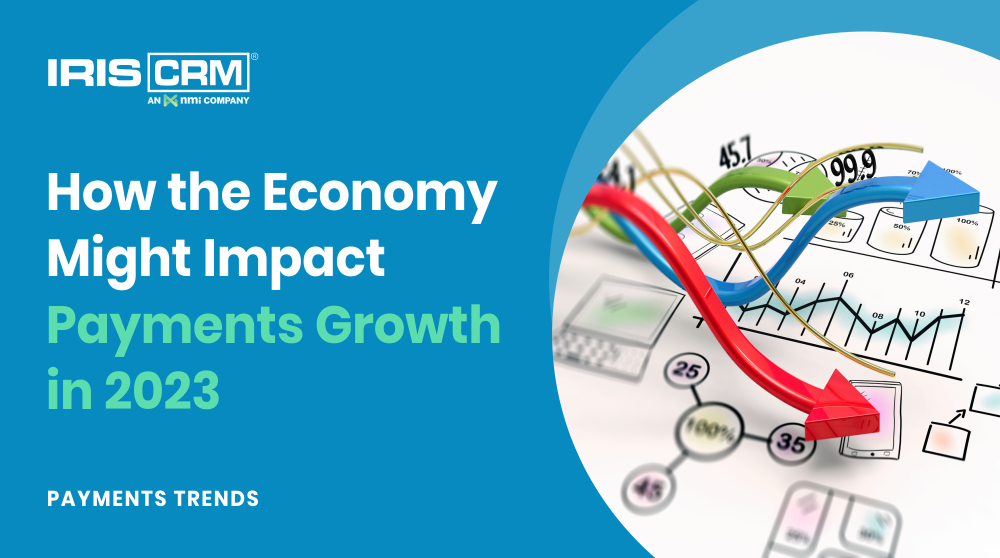 Payments 2023: How the Economy Might Impact Merchant Acquisition and Portfolio Growth in the Year Ahead
A "hard market" is an insurance industry term describing a time when market conditions and risk appetites limit growth and things become particularly difficult for the front-line professionals – agents and brokers – looking to acquire new business. It's an equally apt term to describe what the payments industry may be facing in 2023 and possibly even the beginning of 2024, as economic conditions create challenges for ISOs that could make it more difficult to recruit new merchants and keep growth numbers up. 
Luckily, all challenges are also opportunities in disguise. A potentially difficult year ahead also represents a chance for ISOs who can adapt to consolidate market share and set themselves up for explosive growth when the economy inevitably emerges from the current downturn. 
What to Expect from the Economy in 2023
While there is some debate going on about what constitutes a recession and whether or not we're headed towards a mild one, what we do know is that a number of challenging economic conditions emerged in 2022 that are, at the very least, pushing the economy closer towards recession than it has been since 2020, when the impacts of the global pandemic came on hard and fast. As a result, there is no need to question whether or not growth in the payments space will slow, because we know it already is. For instance, the Strawhecker Group identified a deceleration in SMB account growth going back to Q1 2022, and has warned that the trend will likely continue at least through early 2023.
While the deceleration can be explained at least partly as a natural contraction to strong post-pandemic recovery, the simultaneous impacts of soaring inflation and rising interest rates have sent shockwaves throughout the economy that have significantly impacted both merchants and end consumers, undoubtedly contributing to the stunted growth the payments industry is already seeing. 
Looking to the future, 91% of U.S. CEOs see a recession looming. The Conference Board predicts the U.S. will dip into a recession sometime between Q4 2022 and Q1 2023, with the odds at 96% by mid-2023. As of mid-December 2022, S&P Global Market Intelligence expects an early 2023 recession, with recovery beginning sometime in the second half of the year.
What It All Means for Payments and ISOs 
For the payments industry as a whole, growing inflation is a mixed bag. Rising prices can contribute to rising average ticket sizes, which theoretically don't impact merchants negatively and can even benefit the volume side of residuals. But as consumer dollars become worth less, the industry may see those dollars shifting away from discretionary spending. That could see benefits from higher ticket prices localized in more essential retail sectors at the expense of others, limiting the number of merchants and, in turn, ISOs that can benefit from rising prices. And, as McKinsey notes, rising inflation can hurt merchant services companies that depend on the fixed fee aspect of transaction pricing, as the value of those fees is eroded. 
Rising interest rates have a slightly more clear-cut impact. Higher rates make it more expensive to acquire capital, which is always bad for merchants. When capital costs more, merchants can face difficulty with everything from executing short-term plans to managing overhead costs to paying vendors to staffing reductions and beyond. Growth can become difficult, if not impossible, and clamping down on costs becomes the top priority. That squeeze naturally filters up to ISOs as merchants become more price sensitive and potentially even close up shop. 
For independent sales organizations, current and emerging trends indicate that 2023 could be a year in which it's going to be harder to recruit new merchants, and each merchant account will probably either see flat growth or potentially even generate lower average residuals than in 2021 or 2022.
Real wages – the measure of how much a worker's pay is worth in relation to inflation – have seen a decline unparalleled in the last 25 years. In short, consumers feel squeezed right now. Unless an ISO specializes in needs-based sectors like groceries, it should expect to see merchants' end customers spending less. In turn, there is a good chance the average residuals earned on merchant accounts will stop growing or even shrink. 
Finally, recent history tells us that a recession beginning in Q4 2022 or 2023 will hurt earnings and compensation for ISOs and independent agents. According to American Banker, in the wake of the Great Recession, 82% of ISO and acquiring salespeople surveyed reported their income took a hit, with 26% indicating their compensation was "drastically" altered. 
What ISOs Can Do to Weather the Storm and Emerge Stronger
The same conditions that can make life difficult also represent a competitive opportunity for ISOs that are prepared and ready to adapt. Just some of the ways ISOs can not only survive but set themselves up to thrive include maximizing retention, offering more value through increased vertical integration, and leveraging payments technology like customer resource management to generate new competitive edges. 
Focus on Retention
It costs more to land a new merchant than to retain an existing one. At a time when recruiting new merchants is even harder than normal, keeping existing customers happy and loyal is of top importance. One of the best ways ISOs can protect residuals should a recession hit in 2023 is by plugging leaks that could see merchants slip away to competitors. Pricing is a part of that – but only a part. Improving customer experience and the quality of service and support delivery is even more important, and there has never been a better time to check in with merchants and find out what can be done to buttress relationships. 
Increase Vertical Integration
Just like end consumers, as money gets tighter, merchants will be looking for more bang for their buck. Finding ways to deliver more value should be a top priority for ISOs in 2023, and one of the most effective ways to do it is through increased vertical integration. The wider the range of services an ISO can offer merchants, the more efficient the merchant's overall costs are likely to be. Accessing more services through a single provider also makes a merchant's life simpler by reducing the number of vendors they have to manage. At a minimum, ISOs need to offer merchants payment processing, omnichannel gateway services, and value add-ons like advanced fraud protection and improved security and tokenization. The more services a processing partner can enable an ISO to resell, the more value the ISO will represent to merchants and the more competitive it will be in a tightening market.
Leverage Technology Better than the Competition
When competition ratchets up, even small competitive advantages become extremely valuable. The most powerful way ISOs can generate new advantages is by leveraging technology to compete more effectively and efficiently. For instance, adopting a high-powered payments CRM can enable an ISO to punch well above its weight, competing with much larger companies while maintaining a small, lean team. By putting data at the core of all customer-facing activities and automating the most repetitive yet important tasks, a good payments CRM can improve everything from the sales process, to service delivery, to residuals management and beyond, all while reducing the time and resources involved in almost all areas of operations. The results are better cost management, more efficient merchant recruiting, and greatly improved agility – three keys to thriving in a difficult market. 
IRIS CRM is the payments industry's leading customer relationship management platform. Part of NMI's full commerce enablement solution, IRIS CRM offers ISOs all the sales benefits associated with traditional CRMs and a full suite of industry-specific tools designed to streamline and enhance everything from merchant onboarding to residual calculations and beyond. 
To find out more about how IRIS CRM can help your ISO position itself for success and growth in even the most difficult market conditions, schedule a free guided demonstration today.