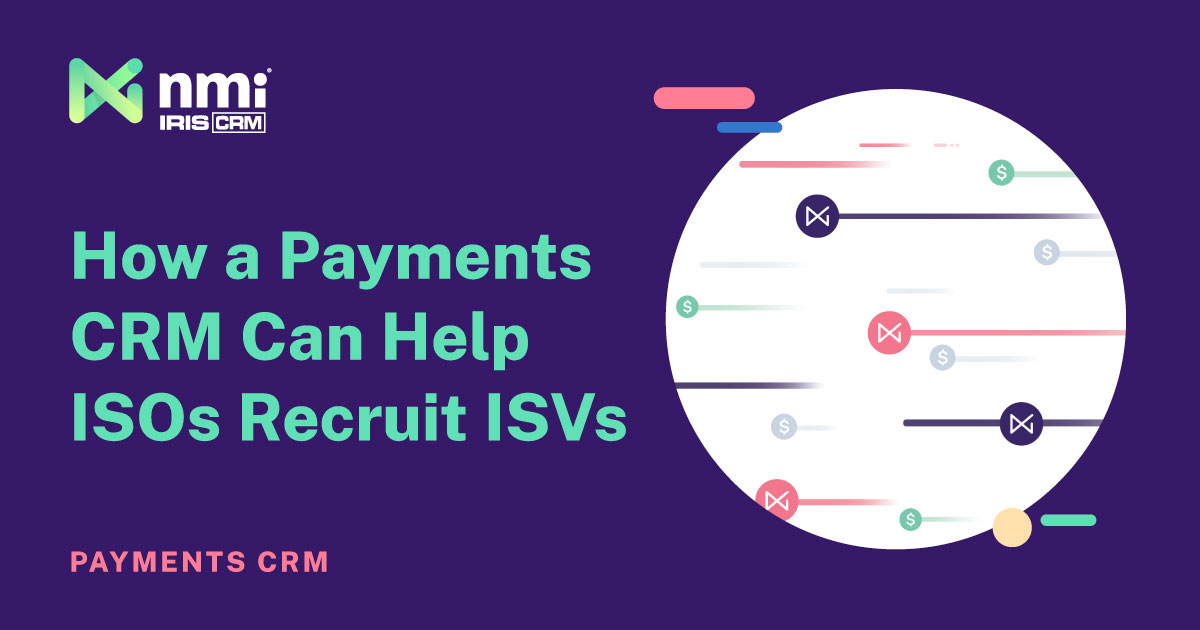 Recruiting ISVs: How a Payments CRM Can Help ISOs Target a Rapidly Emerging Sector
In a world where software drives so many aspects of daily life, independent software vendors (ISVs) are becoming an increasingly important target for merchant services. For independent sales organizations (ISOs), ISVs represent a two-sided opportunity. On one hand, with so many apps and software platforms on the market, many ISVs are in need of a way to accept digital payments within their products. But the payments market is also seeing an emerging trend in which more and more ISVs are offering payments to their own business users. And with merchant uptake of ISV payments rapidly on the rise, strategic partnerships represent a way for ISOs to unlock potentially large user bases in one fell swoop. 
In this article, we'll take a look at how ISVs are changing the payments landscape and how ISOs can use payments CRM technology to gain market share, open up new revenue channels and drive growth in this increasingly important sector.  
What is an ISV?
An independent software vendor is basically any company that develops and sells its own software to end users, be they consumers or businesses. In today's digital world, it's a huge umbrella term that encompasses tens of thousands of businesses around the world in hundreds of different verticals. There are over 10,000 ISVs in the United States alone. And, from operating systems to business tools to the games and apps on our phones to the ever-growing number of devices and appliances we can now connect to the Internet of Things, ISVs are so integral to our modern lives that the category is only going to expand in the future.  
Why ISVs Represent Such a Huge Opportunity for ISOs
In addition to the sheer size of the category, software vendors represent an important opportunity for ISOs because today's ISVs are increasingly looking to integrate payment processing into their software, Whether to enable end-user payments in consumer software or to help users accept payments in business software, software vendors striving to offer more integrated, frictionless user experiences need payment processing – which means, in many cases, they need ISOs.  
ISVs Need Integrated Payment Processing 
In-app purchases may be the bane of mobile gamers' existences, but they're also a convenience that software users increasingly expect. From upgrading to premium features to renewing subscriptions to pay-as-you-go activations, in-game currencies, experience customizations, and beyond, when users need to make a purchase, they expect to be able to do it immediately without leaving the software. Facilitating that integrated payment processing with a merchant account is where ISOs come into the picture, and the potentially enormous volume of transactions that can be generated from an in-built user base makes ISVs lucrative targets.
Business-Facing ISVs Need Help Reselling Processing to Users
Beyond just providing ISVs with merchant accounts, forward-thinking ISOs are increasingly looking to ISVs as potential acquiring partners that can turn an existing software user base into new MIDs. ISVs developing and selling business-facing software have merchant users that could be accessing their payment processing directly through the ISV for added convenience. In fact, that arrangement is quickly becoming a merchant preference, especially among small businesses. In 2022, McKinsey found that roughly 50% of small businesses now access their payment processing through an ISV, with a further 15% making the transition. While many ISVs opt to become PayFacs to give them more control over pricing and approvals, plenty of ISVs don't want to accept the accompanying risks, making them ideal targets for ISO partnerships. In an ISV-ISO partnership, the ISV effectively acts as an agent, passing their merchants through to the ISO for onboarding in exchange for a split of the residuals. 
How a Payments-Specific CRM Can be a Game-Changer for ISV Recruiting
ISVs looking for processing have a lot of options. Software vendors looking to accept payments from users have all the same choices that any other merchant does, and large software companies may even be able to work directly with acquiring banks, cutting out the middle-man altogether. ISVs looking to offer payment processing to business users also have plenty of options, including becoming their own ISOs or PayFacs. With a highly-competitive target market like ISVs, in an already competitive space like payments, ISOs looking to land deals need to work smarter and offer more than just credit card processing. A payments-specific CRM represents a great way to do that, opening up benefits like seamless sign-ups, better business intelligence, and additional revenue channels through value-added services. 
Offer Streamlined, Automated Onboarding
ISVs looking to sell payment processing to their users need to offer a sign-up experience that is fast and frictionless. In turn, to effectively compete for ISV business, an ISO must be able to offer the same. ISOs with the right payments CRM can ensure the fastest possible onboarding experience for ISVs and their end merchants by using automated onboarding systems, like IRIS CRM (an NMI company) TurboApp. 
Automated onboarding systems use digital merchant applications which can be filled in and electronically signed with PDFs, web forms, or even through an ISV's software interface. The merchant data is then fed through the automated boarding system directly to the payment processor, reducing the entire boarding process to a matter of minutes or even seconds. ISOs with automated onboarding capability can take in merchant applications from their ISV partners and feed them directly through to the processor, minimizing time-to-approval and providing the fast, frictionless experience necessary to compete in today's market. 
Offer Better Data and Reporting
Knowledge is power, and the more an ISV knows about its payments the better. For both ISVs looking for traditional processing services and ISVs looking to sell processing, a good payments CRM unlocks a wealth of data and presents it in a highly useful, easy-to-digest fashion. The improved business intelligence offered by a payments CRM represents a significant source of value to ISVs, particularly ones offering payment processing to their business users. Advanced reporting provides the ability to easily track transaction volumes and values, know which merchants are performing well and which aren't, and identify upsell opportunities. In short, advanced merchant reporting through a payments CRM makes ISVs smarter, and that makes an ISO stand out as a potential partner.  
Offer Maximum Residuals Transparency
ISVs partnering with an ISO to sell payment processing are effectively working as agents – passing on merchant applications in exchange for a cut of the residuals. But, unlike the average agent, the ISV may be passing on hundreds or even thousands of merchants in relatively short order, depending on the size of its existing user base. That makes both accuracy and transparency of residuals extremely important to potential ISV partners, and anything an ISO can do to maximize both represents a competitive advantage. 
The residuals reporting tools included with a top payments CRM maximize accuracy by automating residuals calculations and agent splits. ISOs using automated residuals have access to instantaneous and penny-accurate numbers as soon as residual reports hit the CRM each month. That enables ISOs to pay out not just ISV partners, but all agents, as quickly and accurately as possible. 
Offer a Streamlined Support Experience
When an ISV offers payment processing to its users, it becomes the face of that service and the front line for support. But an ISV likely doesn't have the expertise necessary to handle payments issues in-house, requiring it to forward support requests to its ISO partner. That makes a streamlined support channel between the ISO and the ISV absolutely crucial. 
A good payments CRM will include a built-in ticketing system and helpdesk to make managing, responding to, and resolving tickets as fast and easy as possible. The longer an ISV has to wait for support, the longer its merchants are waiting – an unacceptable situation, especially for something as mission-critical as the ability to accept payments. The right CRM enables ISOs to offer faster, more effective support, helping them stand out in a crowd of competitors offering adequate support at best. 
Offer Integrated Value-Added Services
The right CRM makes it easy to onboard merchants to value-added services in addition to just payment processing. For instance, IRIS CRM's integration with NMI enables users to onboard merchants to NMI's industry-leading payment gateway and full marketplace of value-added services in a matter of a few clicks. For a potential ISV partner, the ability to sell users extra value-added services without slowing down the sign-up and onboarding experience is a major benefit. That makes a CRM with multi-service onboarding a powerful tool that generates not only a competitive advantage, but more money for both ISOs and ISVs, as well. 
Take Aim at ISVs with the Help of IRIS CRM and NMI
Arguably the most important aspect of landing ISVs is making payments as easy as possible. ISVs are in the business of developing and selling software, and while they need payment processing services at varying levels, they don't want to have to make them an internal focus. The more frictionless, transparent, and low-maintenance an ISO can make its offering, the more value it will represent to ISVs. That's what makes NMI and IRIS CRM the ultimate partner for ISOs looking to tap into the increasingly-important ISV market. 
NMI's full commerce enablement offering includes everything an ISO needs to offer a wider set of more streamlined payments services – not just to ISVs, but to all merchants. As the brain of the NMI ecosystem, IRIS CRM centralizes all of an ISO's key tasks and makes it faster and easier to close deals with a full suite of advanced sales and productivity tools. IRIS CRM also makes ISOs a more competitive partner for ISVs thanks to its automated onboarding, automated residuals reporting, and fully integrated helpdesk and ticketing system. With IRIS CRM, signup, onboarding, and support are all as frictionless as possible – a critical need, especially for ISVs reselling processing to their users. 
With IRIS CRM and NMI full commerce enablement, ISOs can access everything they need to land and serve ISVs, all in one place. To find out more about how full commerce enablement can help your ISO tap into the lucrative ISV market, reach out to a member of our team or schedule a free guided demonstration of IRIS CRM today.