Top 22 IRIS CRM Features For 2022
As your company starts 2022 with fresh energy and a strategic plan for how to achieve the year's goals, it's important to choose the right tools to succeed. IRIS CRM is the payment industry's leading, all-in-one CRM solution with features to manage and automate your workflows from initial lead capture all the way through merchant portfolio management, including residuals. 
The list of detailed IRIS CRM features is too extensive to list them all in one post so we've put together a list of the top 22 that are the most powerful for scaling your merchant services business to new heights in 2022.
#1 – Automated Merchant Boarding With TurboApp
IRIS CRM's proprietary boarding tool, TurboApp, is a must-have tool in its own right and is supercharged by all of the other IRIS CRM features. Use TurboApp to increase boarding speed and eliminate costly errors that are prevalent with manual boarding. In five simple steps – and just five minutes – you can go from starting a new boarding application to submitting it and moving on to the next one. 
TurboApp offers direct-to-processor boarding integrations for Fiserv North & Omaha, FIS Worldpay, Paysafe, Priority Payment Systems, Repay (formerly TriSource), and TSYS FSP & Retail.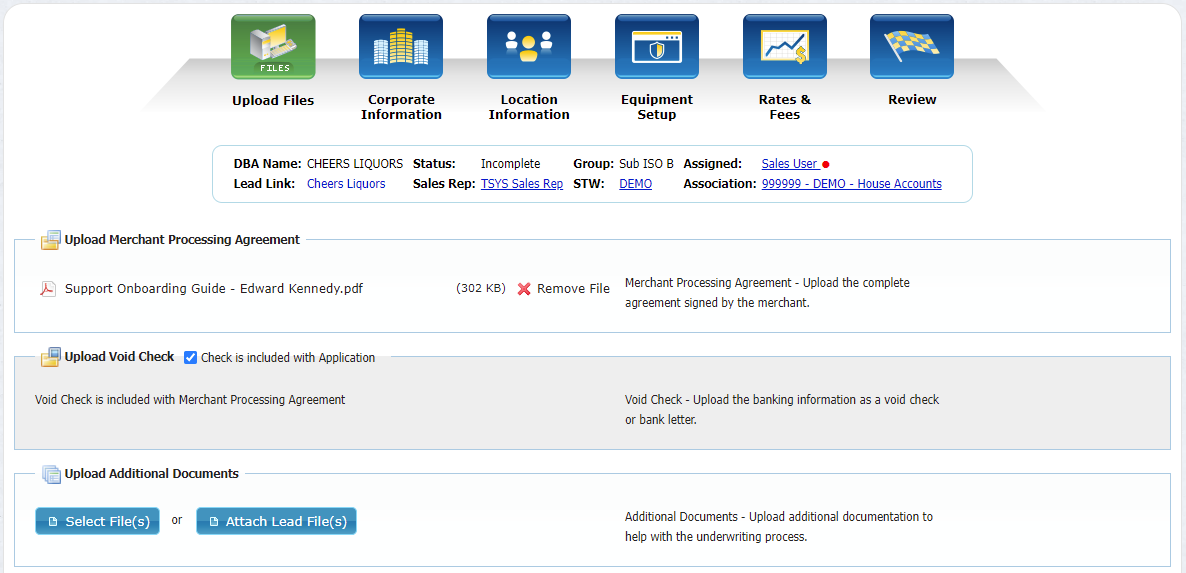 #2 – Dispute Responder for TSYS FSPs and Fiserv ISOs
Dispute Responder makes the dispute process exponentially more efficient for ISOs and their merchants by maximizing the response window with instant notifications and online evidence submission. Day-zero notifications are electronically sent to staff and merchant users when a new dispute is filed, followed up by 24 and 72-hour reminders to make sure a response is submitted, rather than waiting up to weeks for the notice to come by mail. 
Our Dispute Responder is available to TSYS FSP ISOs and Fiserv North & Omaha ISOs. IRIS CRM guides the response process with an easy-to-use evidence checklist so users know the correct information to submit. The entire response process can be done digitally, in one place, making it easier to defend against disputes and retain more of a merchant's hard-earned revenue.

#3 – Automated Merchant Reporting
IRIS CRM offers reporting integrations with the top processors as well as large ISOs to provide a complete view of your merchant portfolios in one location. Depending on the integration, reporting data includes merchant volume and transactions – including a breakdown by card type – deposits, chargebacks, retrievals, monthly statements, account information, and 1099Ks. 
Current integrations include Alto Global, Aurora (First Data & TSYS), Clearent, Elavon, First American Payment Systems, Fiserv (CardConnect, Canada, North, Omaha, and PayFac), FIS Worldpay, MerchantE, Merchant Industry, MeritCard, Netevia, Nuvei (TSYS), Paysafe, Priority Payment Systems, Repay (formerly TriSource), and TSYS (FSP & Retail)… and more integrations are in the works!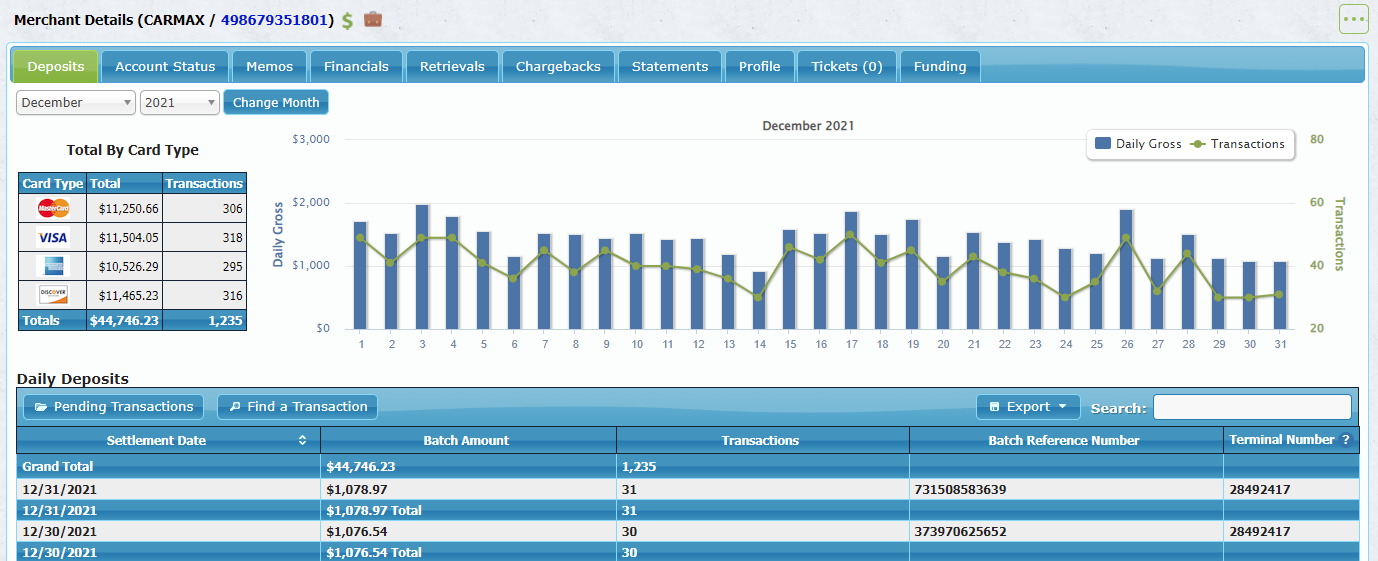 #4 – Lead Importer With Dupe Checker
Save time getting leads into your CRM using the Lead Importer. Simply prepare a CSV import file with the data you want to be added and IRIS CRM will automatically recognize the field names and allow you to map them to your lead fields. The Lead Importer can also be used to update assigned users, status, campaign, and source for existing leads. 
An IRIS CRM feature that makes Lead Importer even more effective is our duplicate checker which determines, based on a selected field, if a lead already exists with the same value as in your file. Duplicate checking helps prevent you from creating more than one of the same lead which could hurt your chances with a prospect by contacting them numerous times.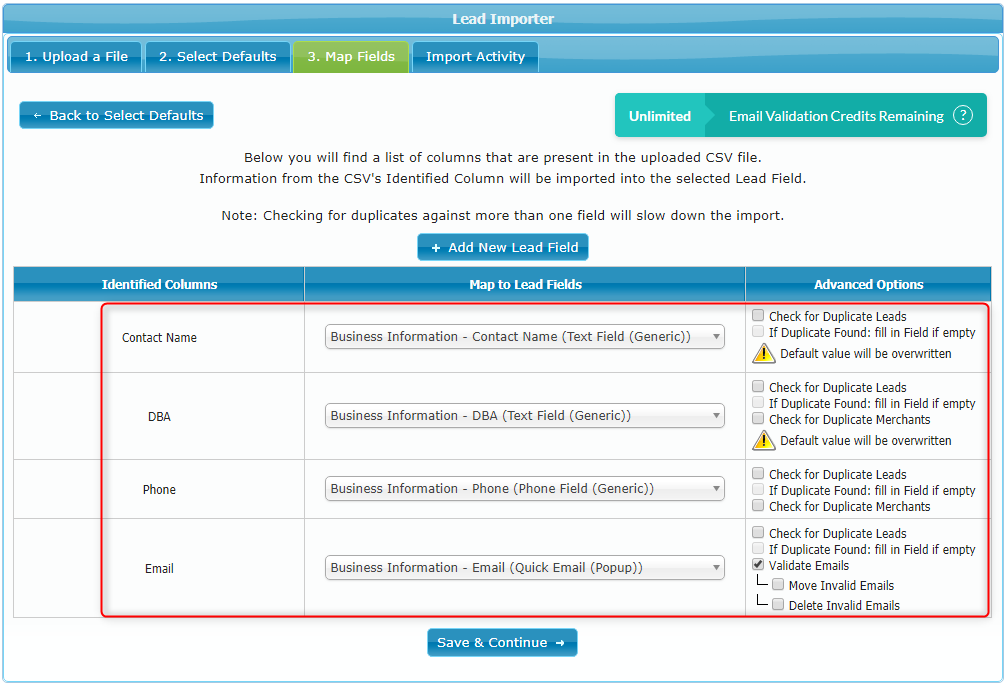 #5 – Automated Residual Calculations
IRIS CRM features a powerful residuals module that provides multi-processor reporting and eliminates the need for time-consuming manual calculations. By removing the hard and tedious work of managing residuals through automation, management can spend more time performing analysis and taking actionable steps to increase revenue. 
One of the latest additions to our Residuals module is automated calculations for Fiserv Payment Facilitators.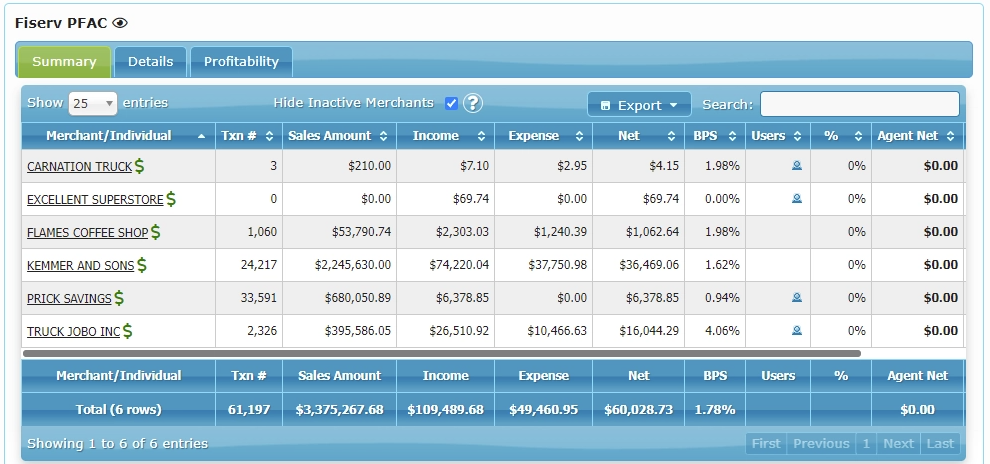 #6 – User Class Restrictions for Lead Statuses
No matter the size of your organization, controlling access to leads is important for both your security operations and workflow optimization. Limiting the stages of your funnel that users can see allows them to focus on leads that are relevant to them, helping to boost their productivity. With Lead Status Restrictions, administrators can fine tune access and visibility, including keeping users assigned for reporting purposes, but limiting their visibility once the lead is with another team. Use in combination with other IRIS CRM features like user class and group permissions to tailor the user experience to your organization's unique needs.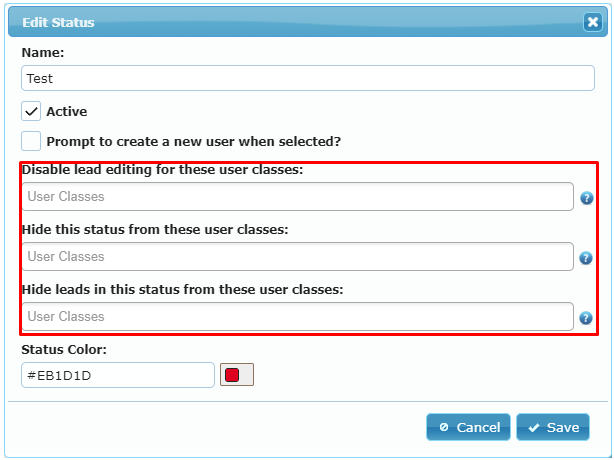 #7 – Populate Merchant Data Based on Residual Report
The third feature in this list explains our very useful reporting integrations which are ever increasing. There are still processors we don't integrate with, however, clients are still able to populate their CRM with merchant processing data from non-integrated processors by uploading residual reports from that processor. This allows organizations to have an overview of all their merchant volume in their CRM, rather than being limited to only data from processors that are currently integrated.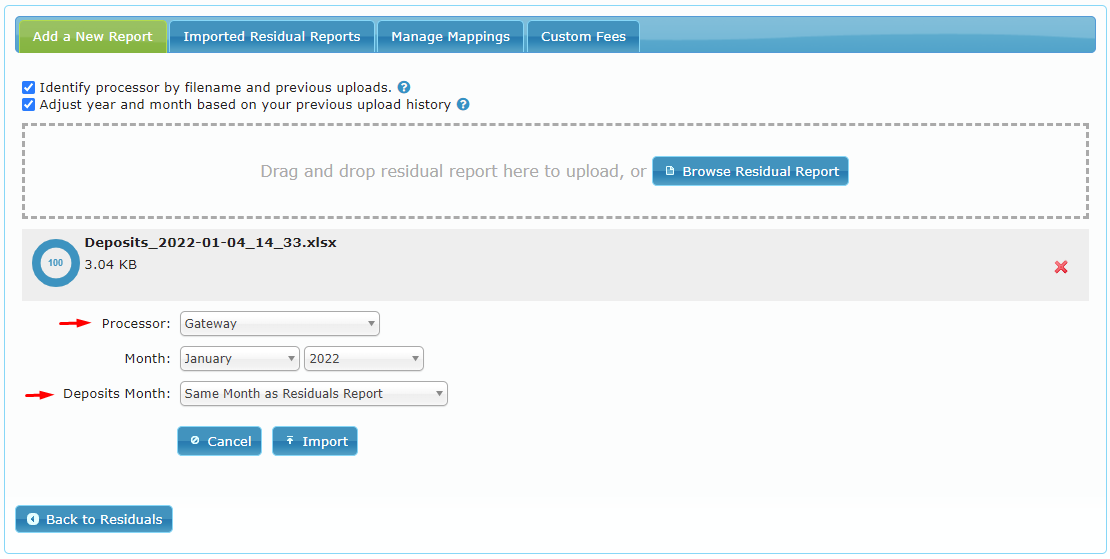 #8 – E-Signature
As the move to remote work, including sales, has rapidly been thrust upon the world over the last 2 years, digital solutions such as E-Signature have become exceedingly important. IRIS CRM is integrated with Adobe Sign to offer processor-approved electronic signature functionality to clients. Use E-Sign to execute MPAs, lease agreements, and other important contracts with merchants to streamline the application and boarding processes. Any PDF form can be mapped to lead data in your CRM so there's no need for duplicating data entry or manually updating documents. 
Our E-Sign functionality also includes features like combining and stacking multiple documents, IP address reporting for increased security, capturing attachments that are added during the signing process, and more that make it easy and efficient to use for both your staff and merchants.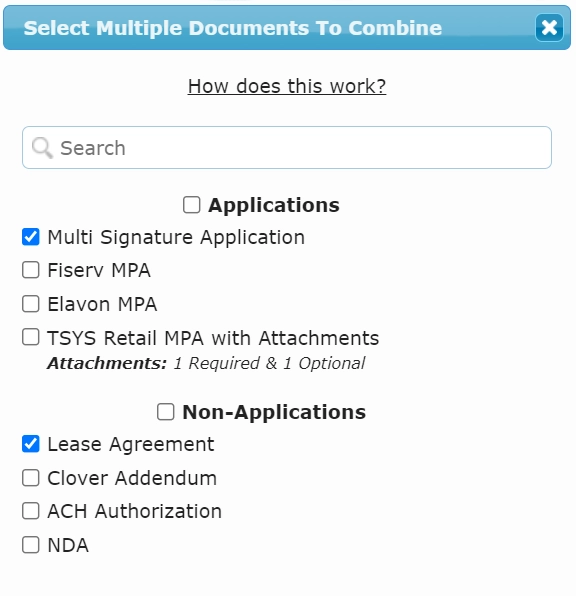 #9 – Status Triggers 
Status Triggers in IRIS CRM enable you to manage the flow of your leads more efficiently by automatically performing tasks based on a status change or age. For example, you can unassign a user after a lead has been in a status for a certain period of time, then assign a new user to make sure the lead is worked and doesn't fall through the cracks. Use a variety of triggers to automate lead management to make sure statuses are accurate while saving users from the headache of manually reviewing and updating all of their leads.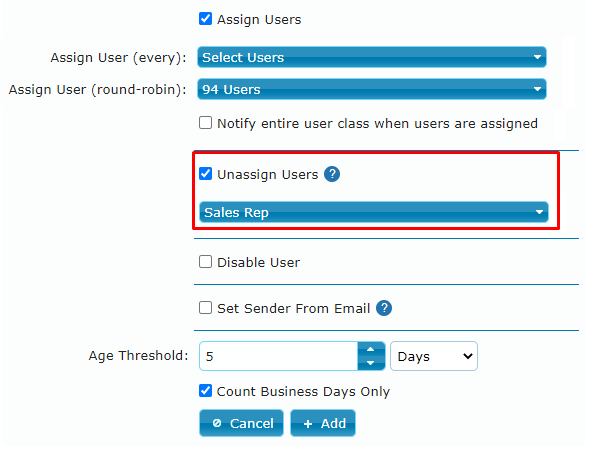 #10 – Custom-Branded Merchant Portal
IRIS CRM features not only benefit our clients, but their merchants as well. Leverage your custom-branded merchant portal to provide merchants with their processing data and control their access to statements. Merchant users can submit Helpdesk tickets to your team directly from the portal, view and reply to open tickets, and view past requests.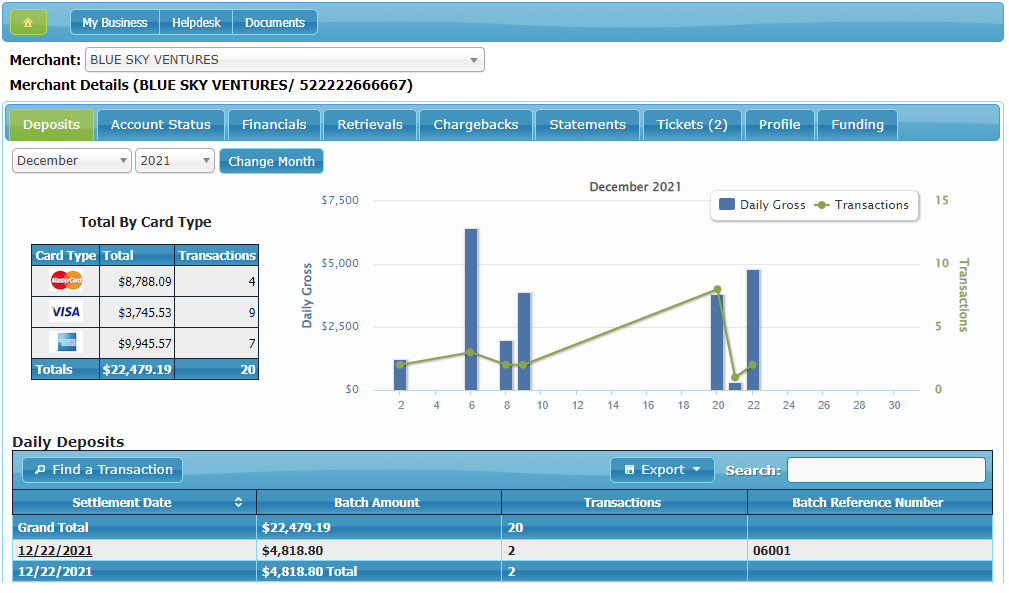 #11 – Merchant User Reporting
Once you've made the decision to provide merchant users with access to your custom-branded merchant portal, it's important to make sure they're actually taking advantage of this value added service. With Merchant User Reporting you can quickly see the user activity for a specific merchant to make sure they are engaging with the portal. The merchant user pop-up allows you to easily reference how many open Helpdesk tickets the merchant has, when and who the last user to log in was, how many users have logged in over the last 30-days, and (re)send invites to new merchant users.

#12 – Email Deliverability Metrics
Outgoing emails are likely the heart of your sales funnel, and just like a heart, their health is of critical performance to the rest of the body – your business. Email Deliverability Metrics enable you to stay on top of the performance of your email efforts to ensure they are healthy and successful. Using email metrics and Threaded Email Sequences empowers your sales organization to measure and optimize processes based on past performance.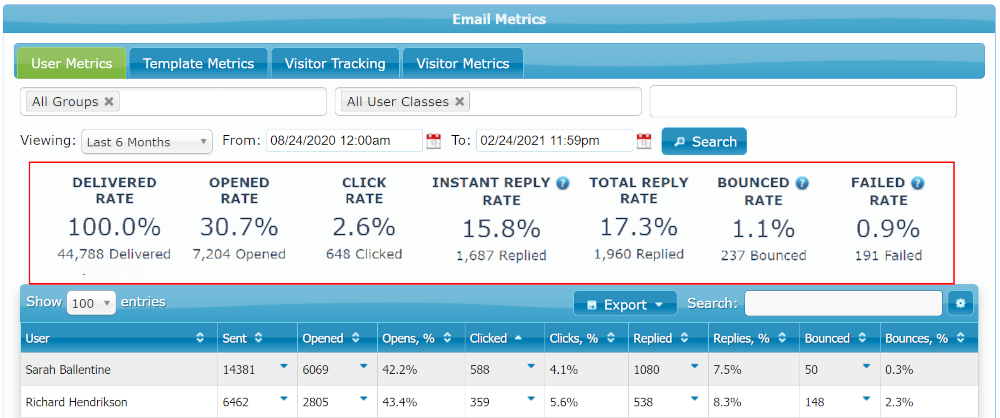 #13 – Helpdesk
A core IRIS CRM feature is our Helpdesk, which is a full service support platform for your organization to manage merchant and internal requests. The Helpdesk allows incoming emails to create tickets, making comments visible to merchants, creating checklists, automating ticket assignments, saving attached files to leads, and more. Combining CRM data with your support platform provides all of the necessary knowledge for your staff to efficiently and effectively address client requests.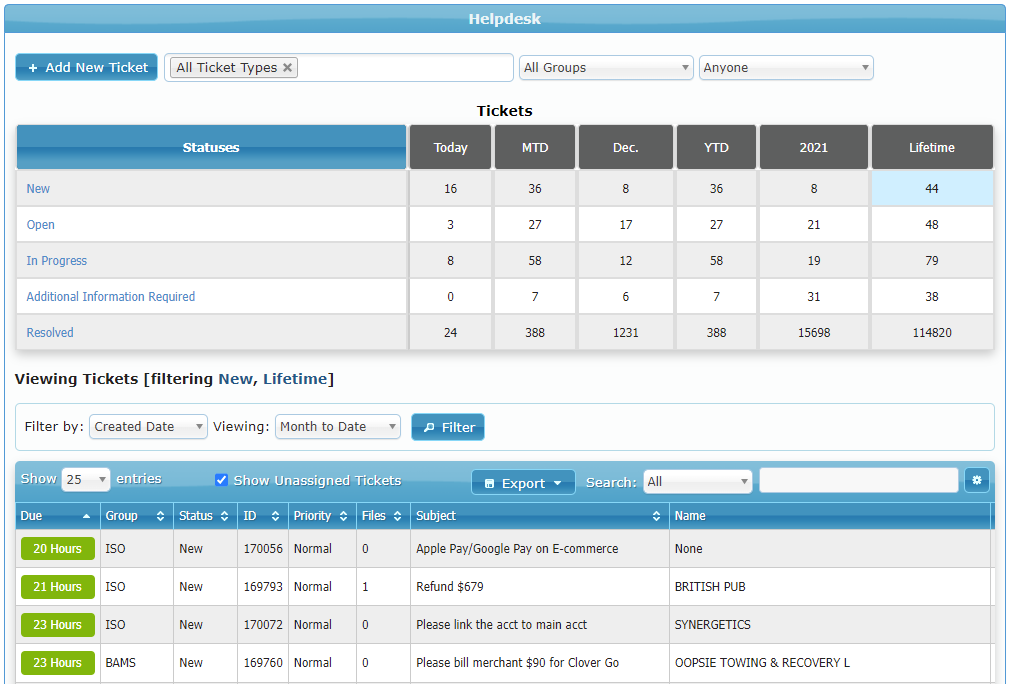 #14 – Call Center
Our CRM combined with our Call Center make for a powerful duo that will allow you to increase your sales and improve your client relationships. Remove the hassle of manual calling by creating Call Queues so reps don't have to dial, then use one-click voicemail drop so they can move on to the next lead. Use Local Presence to increase answer rates and call recordings, listen-in, or whisper to improve agent performance. Lead info is made available for each and every call and can be updated on the fly for the most accurate CRM data to increase the chances of closing a deal.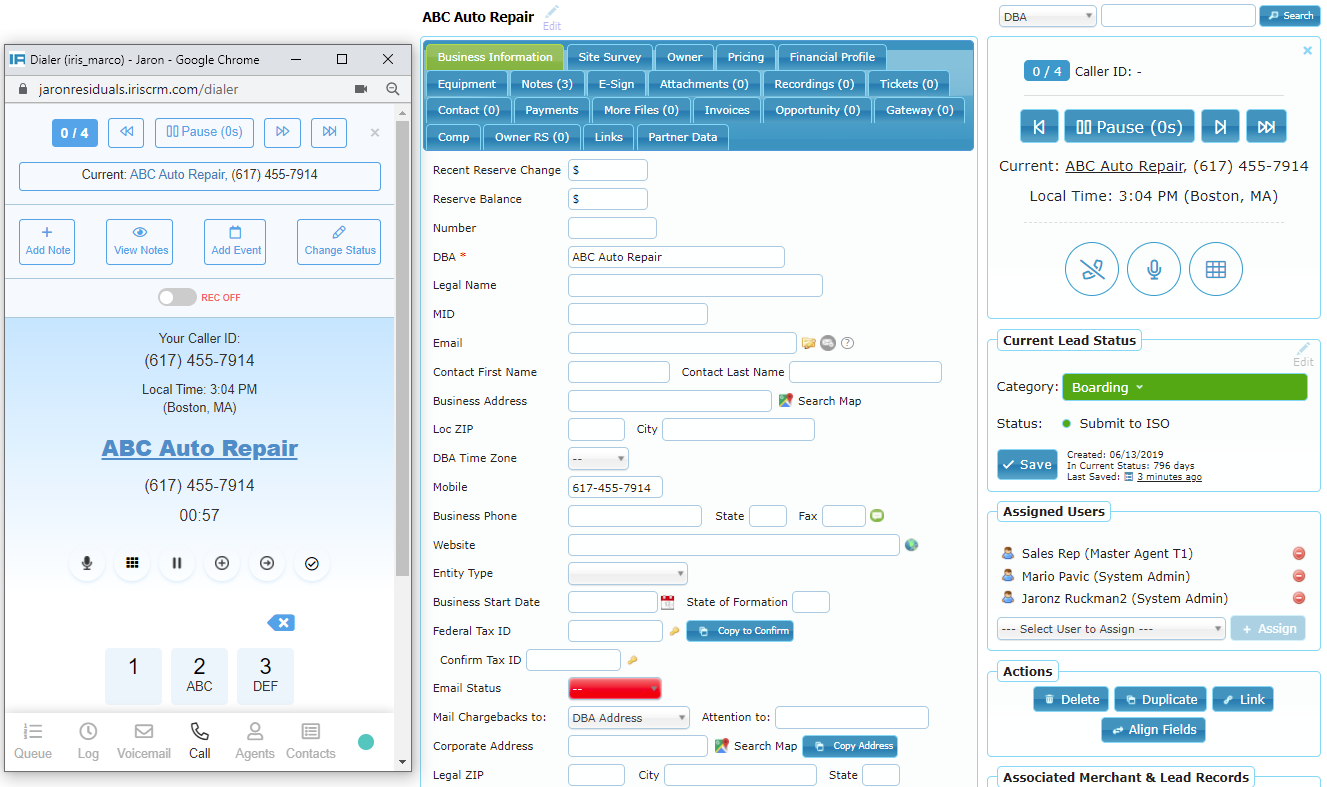 #15 – Automated Merchant Underwriting
IRIS CRM integrates directly with Conformance Technology's PreComm ToolKit risk assessment and monitoring tool to Automate Merchant Underwriting. This powerful integration enables Wholesale ISOs to handle every aspect of their merchant relationships from initial prospecting, to underwriting and due diligence, to boarding and ongoing service and support. 
Not only are you able to do all of this from IRIS CRM, you can cut the time for risk assessment and monitoring from 90+ minutes down to as little as 45 seconds while making the best underwriting decisions for each and every new merchant.
#16 – Copy User Profiles 
Creating a user or two when you first start using a CRM is easy enough. However, as you grow and your permission structures and groups become more complex, adding users from scratch quickly becomes tedious. Copy User Profile is the best IRIS CRM feature to save your administrators time and frustration when managing users. All they have to do is select a profile to copy from and which characteristics – groups, splits, management hierarchy, and assigned users – then update the personal information for the specific user.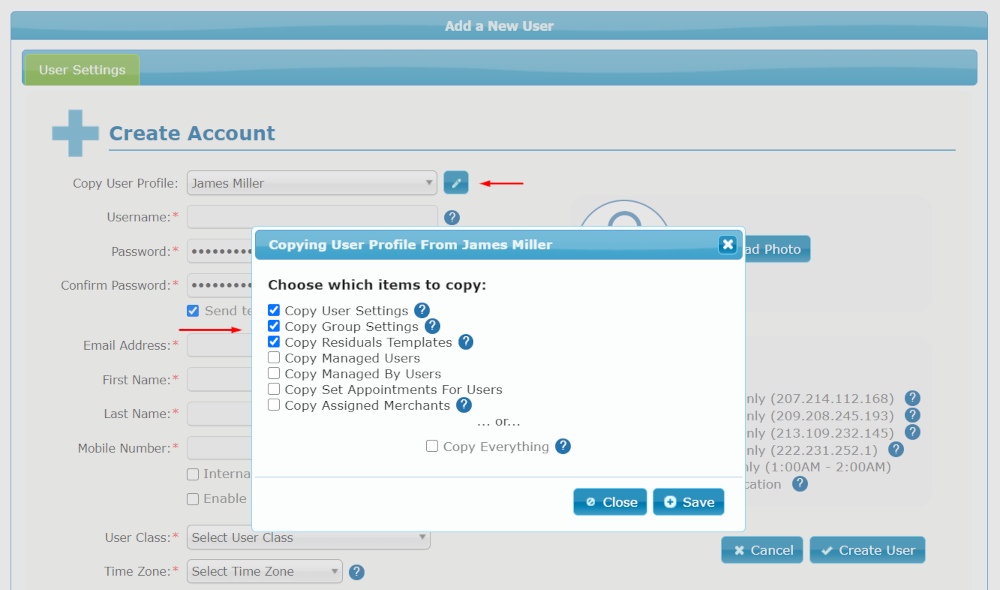 #17 – Lead Management
At the core of IRIS CRM is of course our CRM functionality. Our platform gives your organization the flexibility to customize the lead experience to best fit your workflows. Lead data connects to other modules to streamline your operations including E-Sign, Call Queues, and Helpdesk tickets. Create events and notes, notify associated users, and send communications directly to lead contacts all from one place to maximize efficiency and track all relevant data needed to close the deal. 
#18 – Profitability Metrics
The goal at the end of the day is to generate a profit for your business in order to grow. IRIS CRM enables you to quickly check the profitability of both your entire portfolio and individual merchants with ease. Profitability metrics include profit and growth in dollars, percent, margins, and BPS. Take the guesswork out of which merchants are performing well and which may need more attention so that you can put your effort towards growing profits rather than increasing your time spent analyzing data.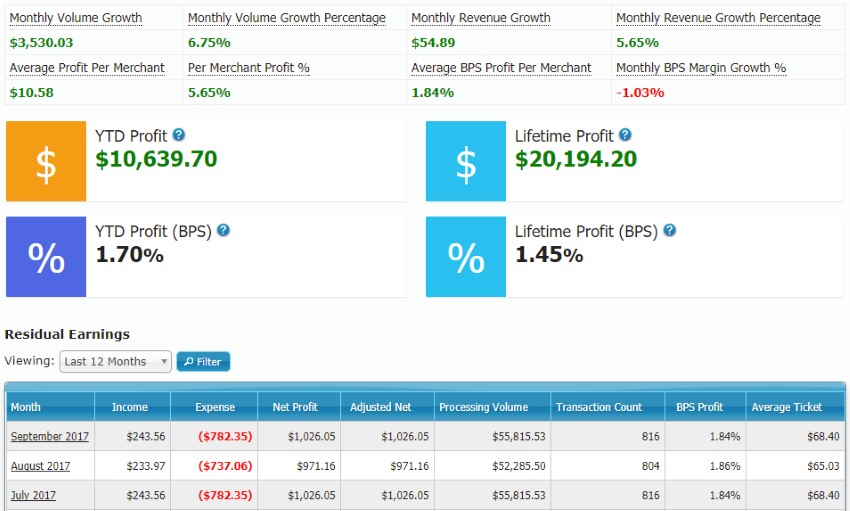 #19 – Sales Metrics
Use Sales Metrics to track sales-related activities like new accounts, notes added, emails sent, and more! Use the data to make informed decisions based on concrete data as well as to drive a competitive sales environment. Sales managers save time by jumping straight into the data and aren't responsible for tracking and tabulating it themselves so they can focus on growing revenue.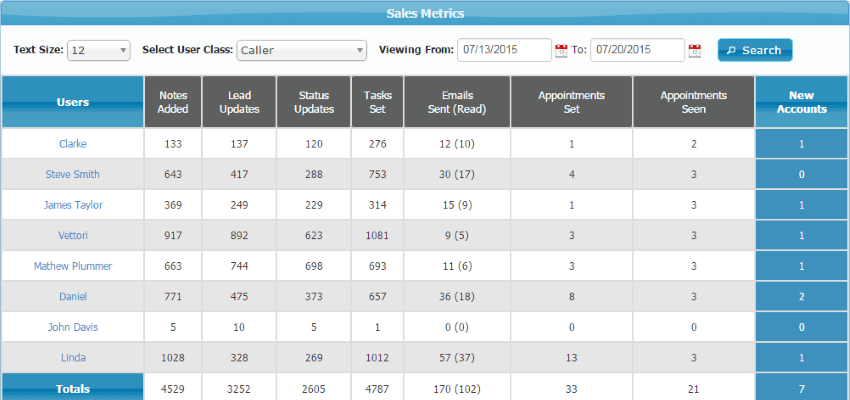 #20 – IRIS CRM Mobile App
IRIS CRM's mobile app allows you to take all of our powerful functionality on-the-go so you can get more done from anywhere. Users enjoy a modern interface and an experience tailored to their mobile device so it's as useful as using the CRM in an office. Thanks to our cloud-based approach, all of your organization's data is available at your users fingertips so they can stay informed and be best prepared for sales calls no matter where they are. Our mobile app is available to download for iOS and Android.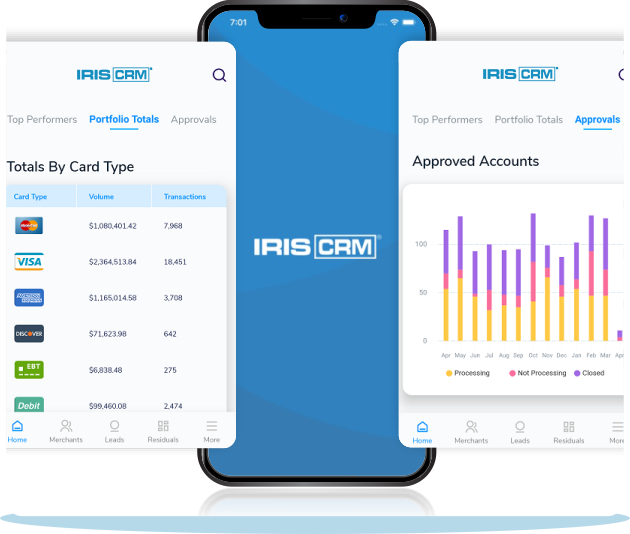 #21 – Integrations – Zapier & More
In addition to all of the boarding, reporting, and underwriting integrations listed above, IRIS CRM offers numerous options for connecting to other services. In total, we offer over 35 integrations, including Zapier, which allows you to integrate your CRM with a variety of other platforms that can also connect to Zapier.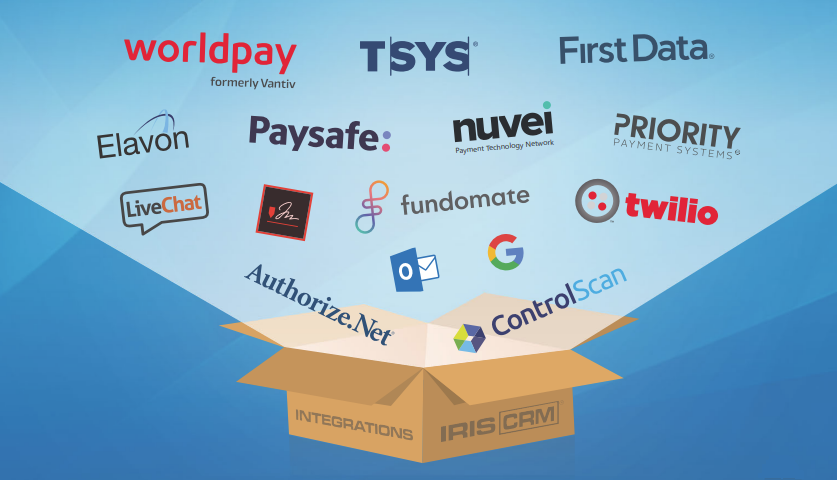 #22 – Per Merchant Pricing
Although it's not a feature to use within IRIS CRM, our per merchant pricing model is a key feature that will help your organization scale. Only pay for active merchants so your price only increases as you grow. Onboard all of your users to the platform without paying more so you are not stuck paying for functionality that users don't need. With all of your users in your CRM, they can easily collaborate and build a comprehensive view of your portfolio from sales to support, to finance and operations, enabling you to grow faster and easier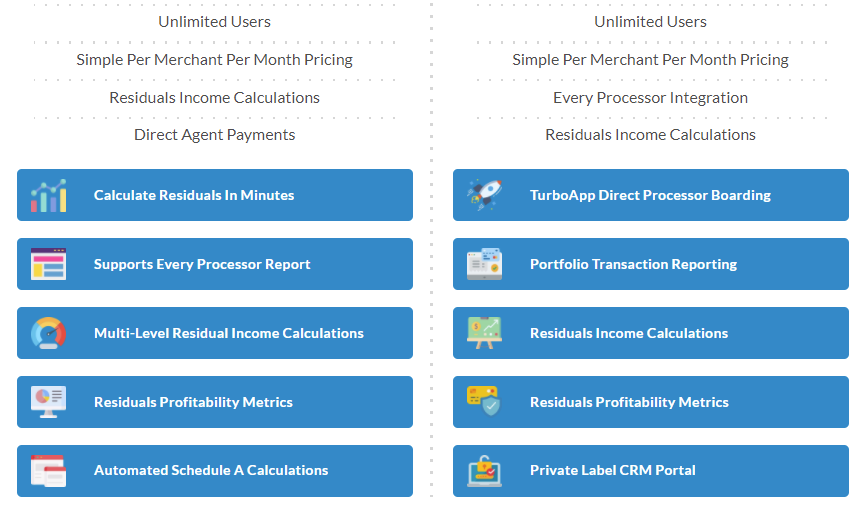 Learn more about these game-changing IRIS CRM features and what else our industry-leading platform has to offer so you can blow past your goals for 2022 by scheduling a demo with our team.