TurboApp – Increase Boarding Speed and
Eliminate Costly Errors
IRIS CRM's Proprietary Boarding Module, TurboApp, makes merchant onboarding at lightning speed possible while
eliminating costly data-entry errors.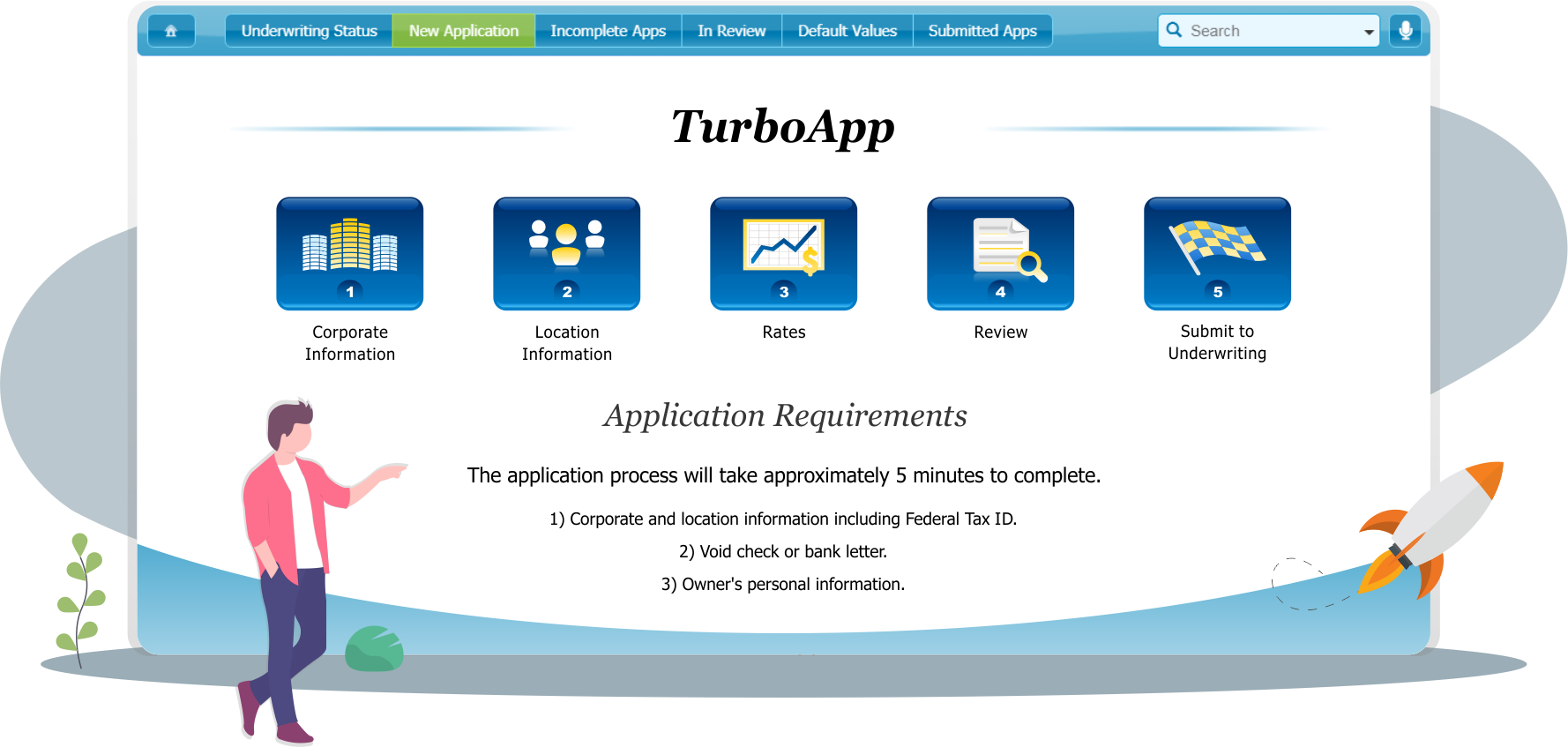 IRIS CRM is a true end-to-end solution designed to assist your ISO with every stage of your merchants' lifecycle, including the boarding process.
TurboApp – IRIS CRM's proprietary boarding tool – automates the boarding process and eliminates almost all of the manual data entry involved.
With TurboApp, your ISO can eliminate the highly costly human errors that all manual data entry entails. Better yet, you can take the time it takes to complete a boarding application from 30 minutes or more down to just five minutes.
It's an elegant solution to an industry-wide problem, and TurboApp stands to revolutionize the way your ISO handles the boarding process.
Read on to find out more about how TurboApp can help your ISO reclaim enormous amounts of lost time and protect your profits from expensive mistakes.
Problem: Manual Merchant Boarding is Slow and Error-Prone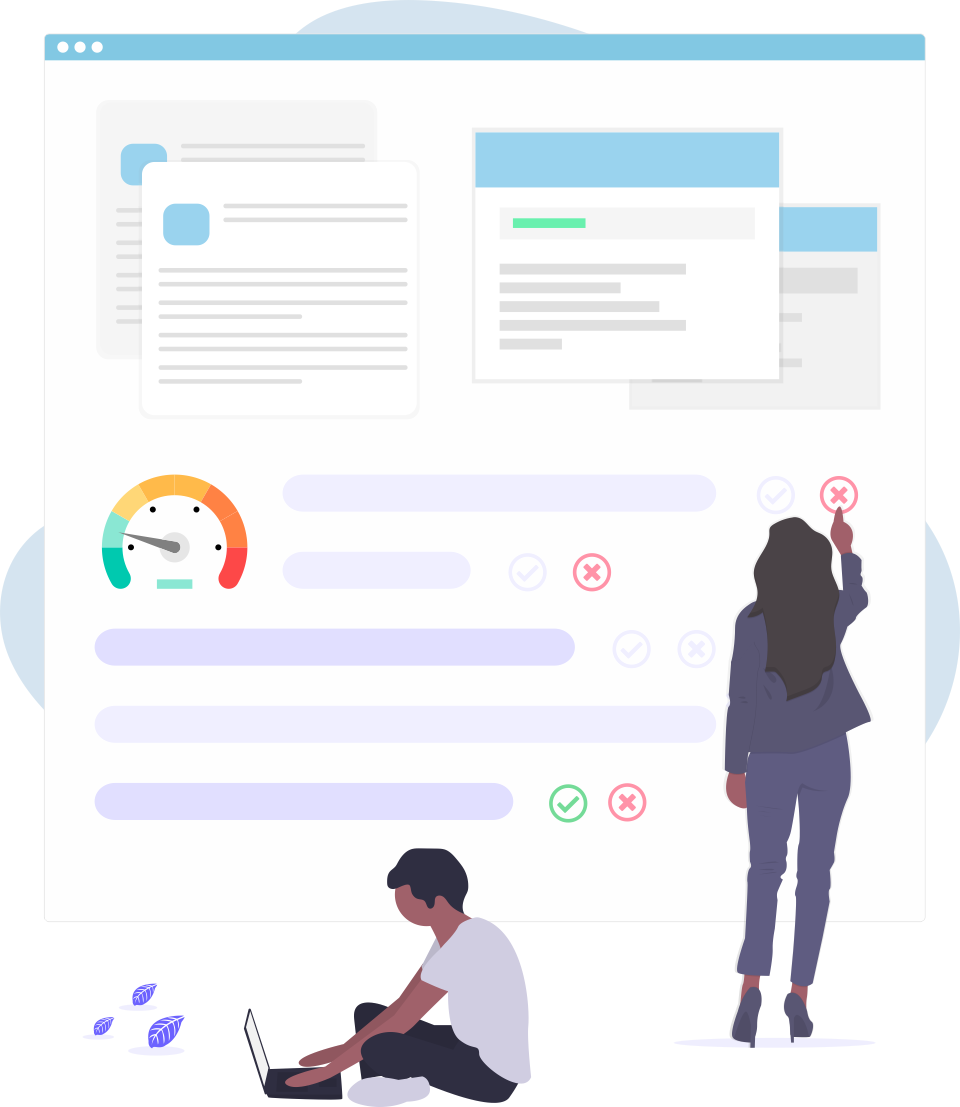 Problem: Manual Merchant Boarding is Slow and Error-Prone
Getting new merchants successfully boarded to the payment processors you work with is one of the most crucial tasks your ISO handles. Without new merchants, there are no new residuals. The traditional boarding process presents all ISOs with two major problems: it's incredibly slow and it's prone to human error!
The payment processors boarding portals are not built for the convenience of your operations or boarding staff. As a result, manually transferring an MPA's data into a traditional boarding system can take 30 minutes or more – even for your most experienced people.
With every keystroke involved in that excruciatingly slow manual data entry, the risk of human error exists. A single errant number has the potential to wipe out your mandatory fees, reduce the rate you charge a merchant on transactions, or even cause an application to be denied by the processor altogether. Multiply that by the thousands and thousands of keystrokes required to fill in the 600-odd fields involved in a traditional boarding application, and the risk is clear.
Solution: TurboApp Automated Merchant Boarding Increases Speed
and Eliminates Data Entry Errors
IRIS CRM's TurboApp removes the human factor from the equation as much as possible by automating the boarding process. By letting an automated system handle the data transfer – something computers are ideally suited to do – you do not only save your boarding staff all of the time they would've spent typing out each field one-by-one. You also effectively eliminate the potential for expensive errors.
TurboApp Manages All of Your Boarding Integrations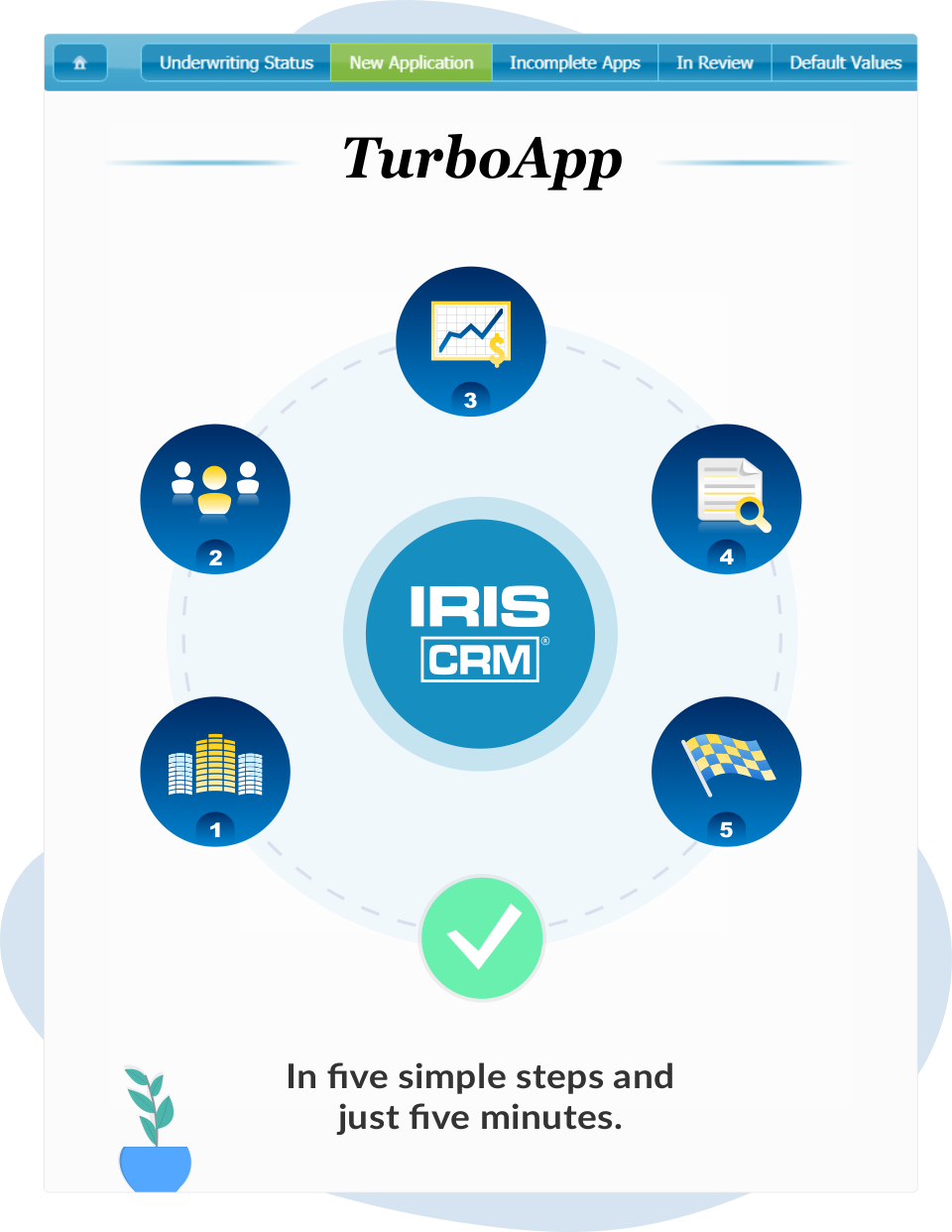 Single Interface For Merchant Onboarding To Multiple Acquirers
IRIS CRM's unique automated boarding application – TurboApp – takes boarding from 30 minutes for an experienced employee down to just five minutes for even new users!
TurboApp simplifies boarding by eliminating almost all of the manual data entry from the boarding process. This massively increases your team's boarding capacity and ensures each submitted application arrives at the processor's underwriting department perfectly formatted and with every single piece of information necessary to receive the stamp of approval.
For the merchant's information, TurboApp automatically pulls all the necessary data right from the merchant's electronically signed MPA and auto-populates the relevant fields in the boarding application – no manual input required.
For your rates and fees, TurboApp allows you to set your default rates once for each type of plan you offer. TurboApp then automatically populates the rate and fee fields so that your boarding team can accept them as-is, or change only the minimum number of fields necessary depending on the merchant.
In five simple steps – and just five minutes – you can go from starting a new boarding application to submitting it and moving on to the next one. It couldn't be easier, and TurboApp enables your team to put that power to work with six of the world's largest and most important payment processors.
Click here now to schedule a demo of IRIS CRM's proprietary TurboApp boarding module and see for yourself how TurboApp will revolutionize your ISO's merchant onboarding process!
TurboApp Multi-Processor Boarding Features
Centralized Integration with the World's Top Payment Processors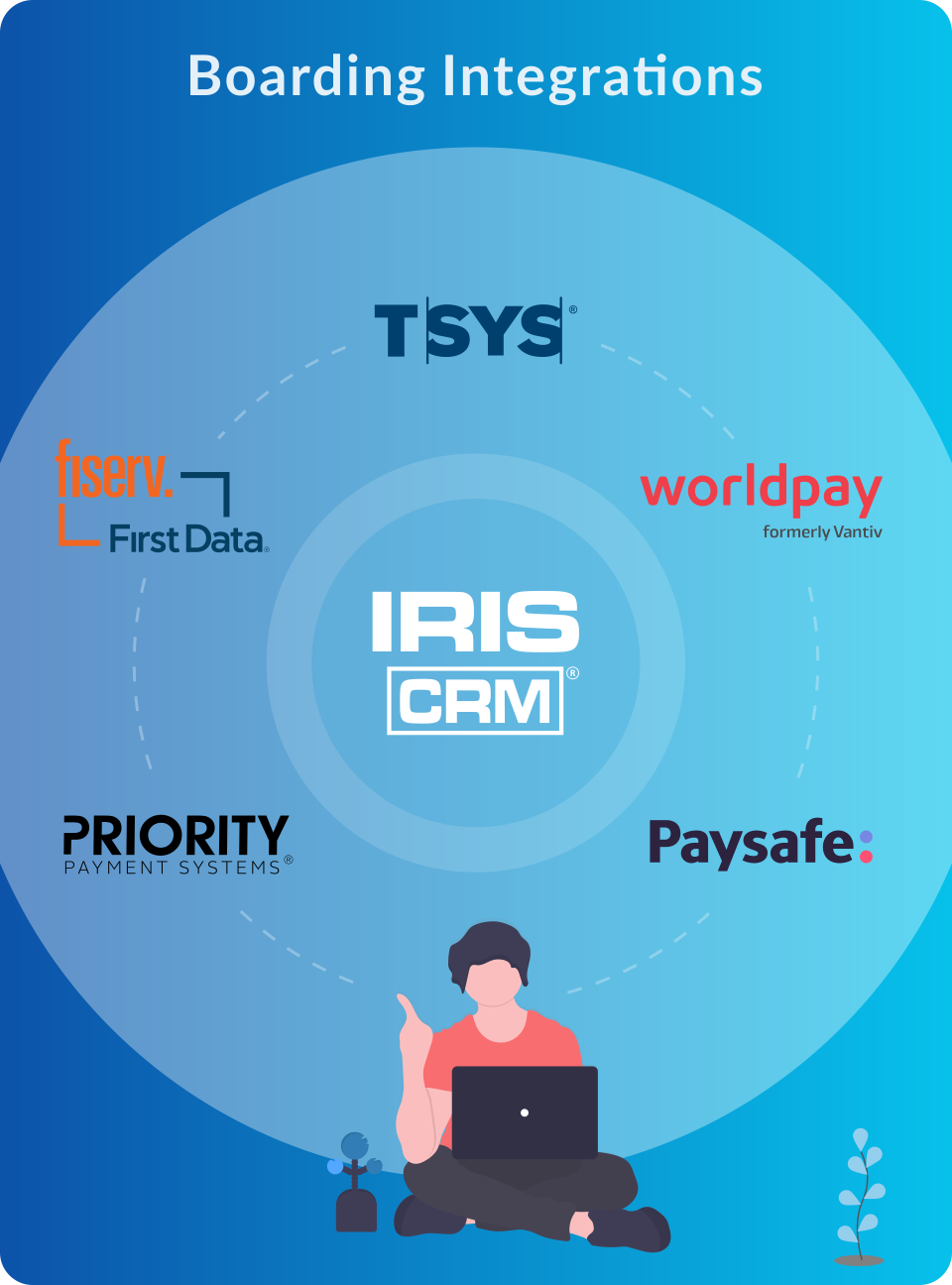 Centralized Integration with the World's
Top Payment Processors
At IRIS CRM, we understand that partnering with multiple payment processors is one of the most crucial aspects of running a successful ISO. That's why we've developed TurboApp to integrate seamlessly with six of the world's top payment processors – specifically, the six that ISOs depend on the most.
IRIS CRM's TurboApp boarding application integrates with the onboarding portals of:
Fiserv AccessOne Omaha for Retail ISOs, Wholesale ISOs & FSPs (formerly First Data Omaha)
Fiserv AccessOne North for Retail ISOs, Wholesale ISOs & FSPs (formerly First Data North)
TSYS ELAPP for Retail ISOs
TSYS Express & PPM for Wholesale ISOs
Paysafe iAccess
Priority Payments VIMAS for Wholesale ISOs
Worldpay MAG (formerly Vantiv)
Whenever you start a new TurboApp application for any of these seven processors, the system automatically configures itself to match that processor's boarding requirements.
The result is that you can board merchants to all seven processors from a single interface, without the need to train your staff in multiple systems or multiple boarding requirements. TurboApp lays it all out for you automatically!
Automated Data Transfer with IRIS CRM eSignature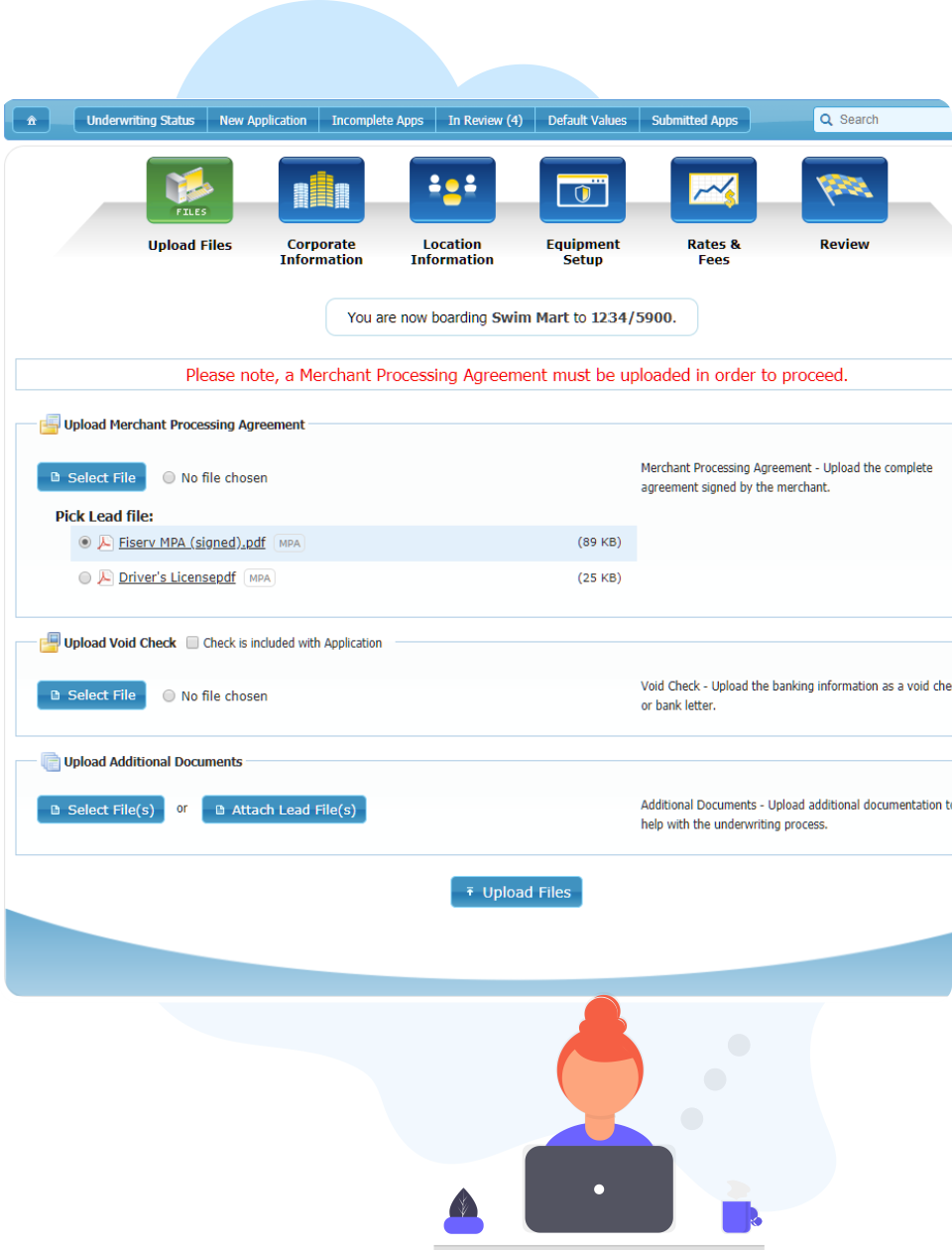 Automated Data Transfer with IRIS CRM eSignature
The need to manually transfer the data from each and every field of a merchant's signed MPA into the processor's boarding system is one of the biggest problems with traditional boarding. It's slow – with even the most experienced users requiring 30 minutes or more to board a merchant. It's also extremely prone to human error, which is a serious problem when even a single missed or accidental keystroke has the potential to result in a denial.
Now, you can eliminate that manual data transfer by partnering TurboApp with IRIS CRM's built-in eSignature functionality. By sending your new merchants electronically signable merchant processing applications, you can load the legally signed MPA directly into TurboApp. The system will automatically pull all of the data and use it to auto-populate the boarding fields.
The result is a system that's so straightforward and easy to use that boarding time with TurboApp has been reduced down to as little as five minutes, even for inexperienced users!
Creating eSign MPAs with IRIS CRM is extremely easy! You simply build the form once by telling IRIS CRM which fields you want to collect, and the system outputs a PDF application – complete with electronic signature capability – that you can then send out over and over to all of your new applicants.
Learn more about IRIS CRM eSignature.
Easy Agent Split Assignment and Permissions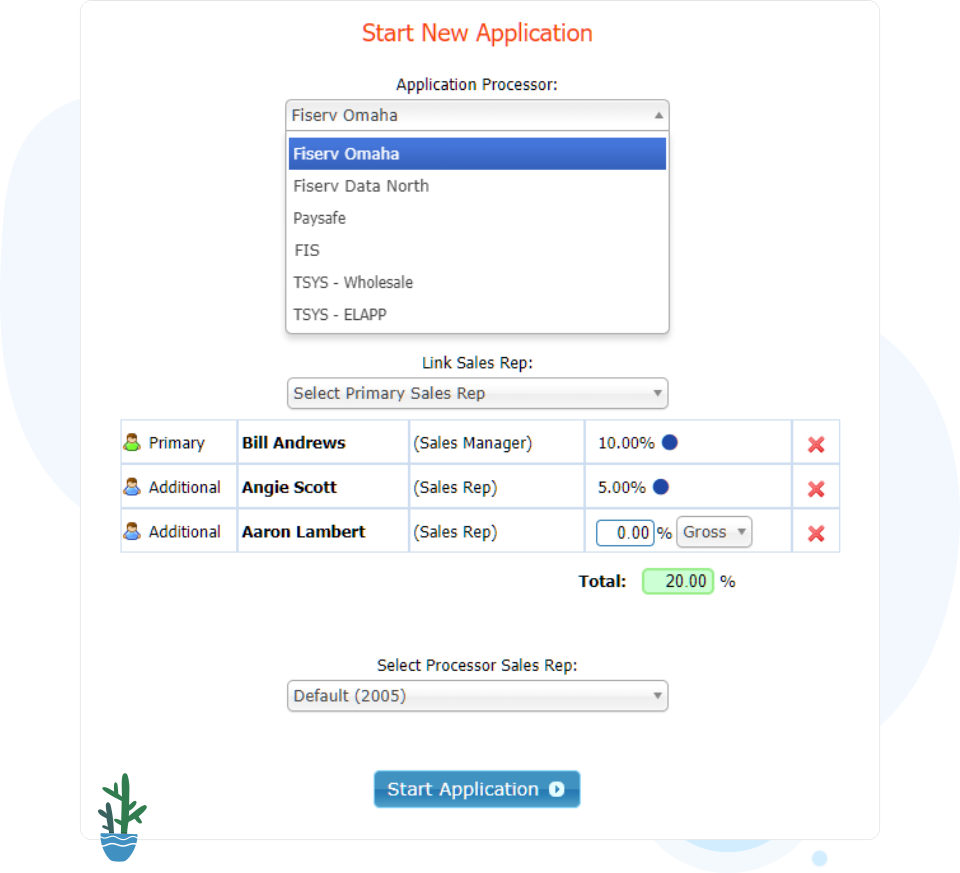 Easy Agent Split Assignment and Permissions
Whenever you start a new TurboApp boarding application, one of the first things the system asks for is which agents and team members you'd like assigned to each new merchant's account, should their application be successful.
By selecting the relevant sales reps or support staff from your team (and the processor, if applicable) using easy dropdown menus, you assign which of your staff will have permission to access that merchant's account information and reporting in IRIS CRM. You can also quickly set each person's split percentage in either gross or net.
With TurboApp, getting each of your merchant's sales reps and support staff assigned, and any residual splits set can be done in a matter of seconds!
Configurable Default Values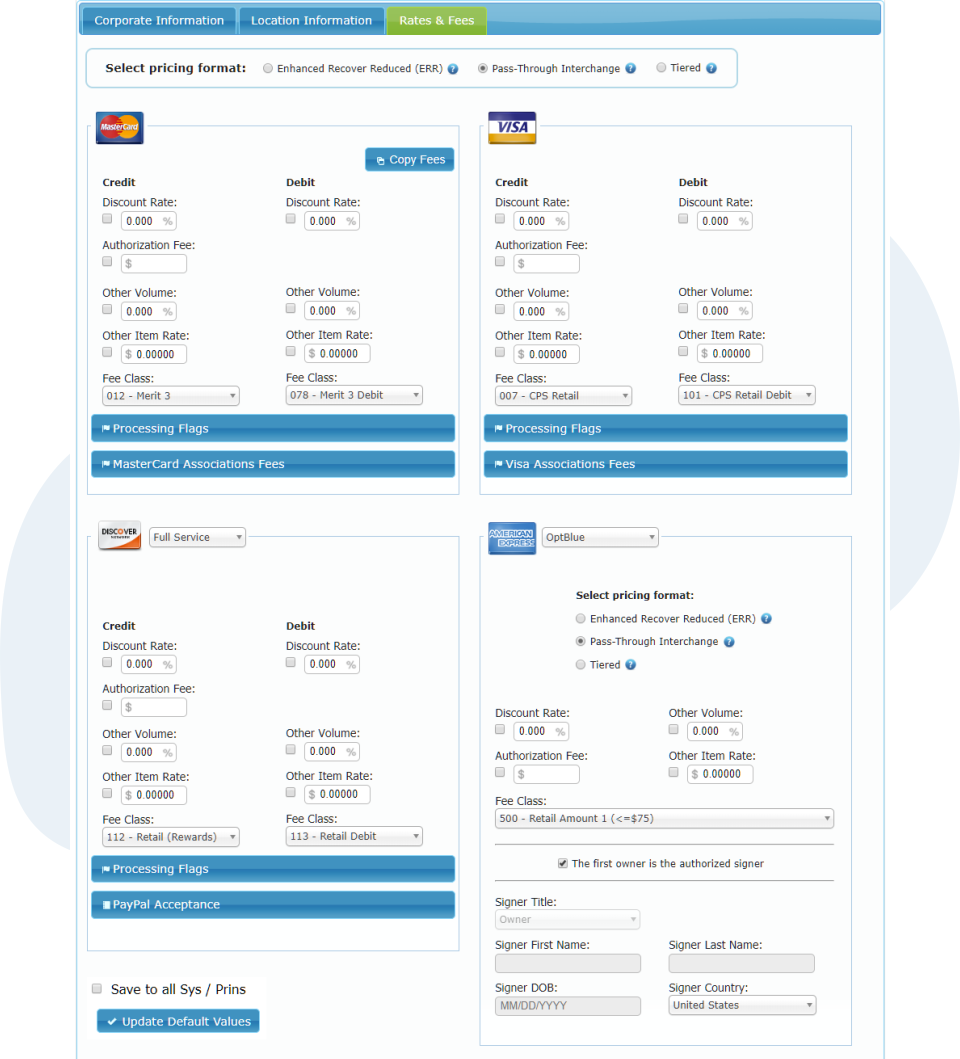 Configurable Default Values
Certain parts of the boarding process can't be completely automated, like setting your rates and fees for each new merchant. TurboApp helps with these parts as well by making data entry fast and accurate.
With TurboApp, you can set defaults for your ISO's rates for each major card type and a variety of other payment options, from EBT, to pin debit cards, to echecks, and more. You can also set defaults for all of your additional fees like statement fees, chargeback fees, and PCI compliance fees.
Whenever a member of your boarding team reaches the rate and fee assignment step in TurboApp, those defaults will automatically prepopulate all of the fields you've assigned them to. You can even make certain fees and rates read-only, locking them in so that even your boarding staff can't alter them in TurboApp.
Your staff will only have to manually enter rates and fees where they differ from your defaults, and it will be impossible for them to accidentally submit an application with any mandatory fees missing – improved speed and unparalleled profit protection!
Automatic TurboApp Application Saving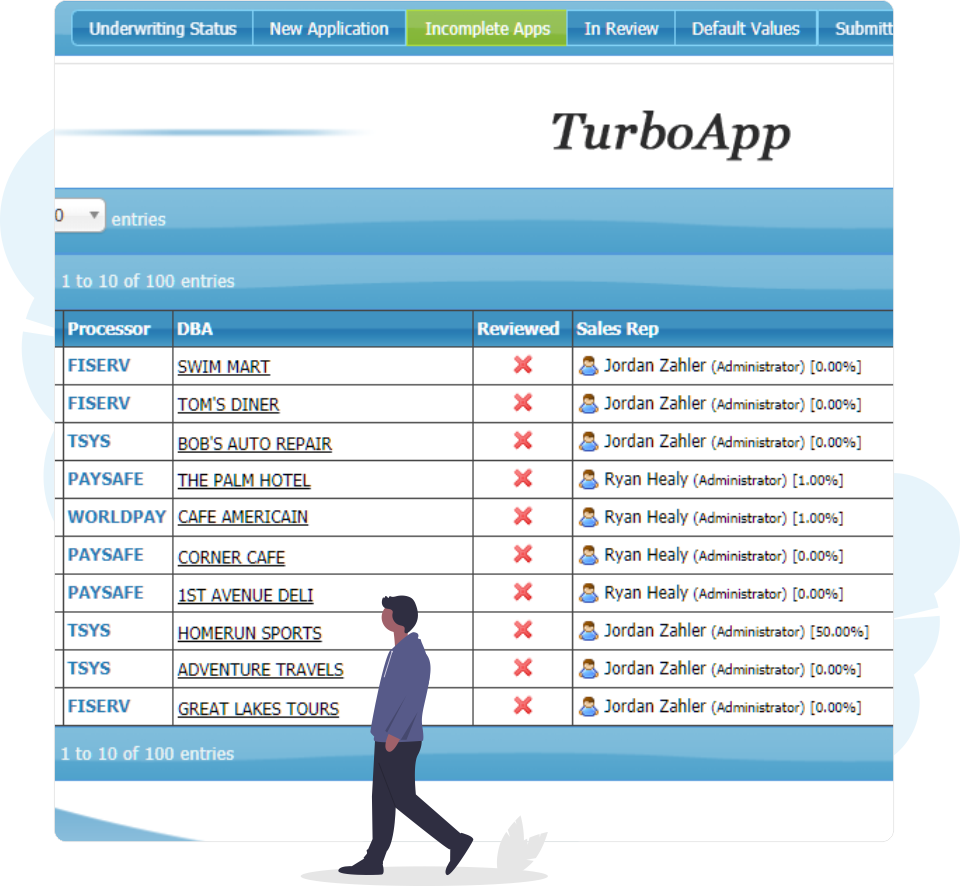 Automatic TurboApp Application Saving
If you've ever spent 20 minutes on a boarding application only to find there was a key piece of information missing or you needed more documentation, then you know the pain of having to abandon all that work. With TurboApp, you'll never have to feel that pain again.
Any TurboApp application can be stopped at any point in the process and resumed from the exact same place at any time in the future. To make it even easier, TurboApp automatically saves your work in the background every 30 seconds, so even if your computer explodes, you'll never have to worry about losing more than 30 seconds of work.
All saved applications are automatically stored in TurboApp's "incomplete apps" tab, making it as easy as a click or two to find your in-progress applications and get going again. The incomplete apps tab also enables management to keep a close eye on how many applications are being stopped partway through so that they can get to the bottom of why, if need be.
TurboApp Application-Wide Field Validation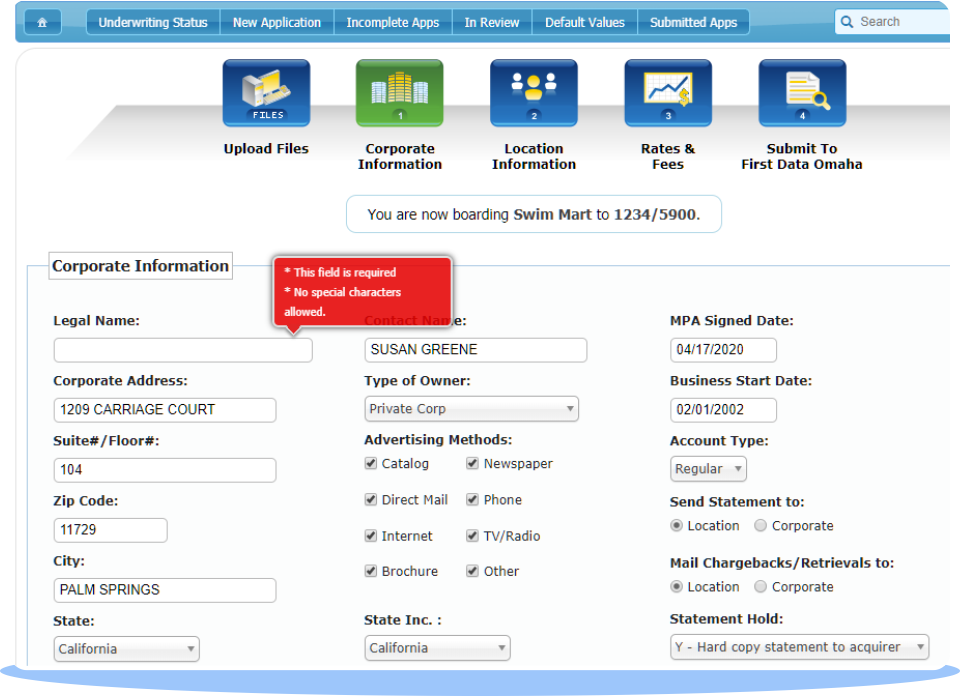 TurboApp Application-Wide Field Validation
One of the most frustrating things about processor-side boarding portals is that they often lack even basic validation to alert ISO staff to potential data errors. Missing a field, entering incorrect data, or giving the system a number when it expects letters or vice-versa can kill an application – and TurboApp is here to help.
All fields in TurboApp include automatic validation, making it impossible to submit an application with missing mandatory data or with the incorrect type of data entered into any field. That ensures tiny mistakes – the kind that are extremely easy to make – don't accidentally undermine an entire application.
TurboApp Application Status Monitoring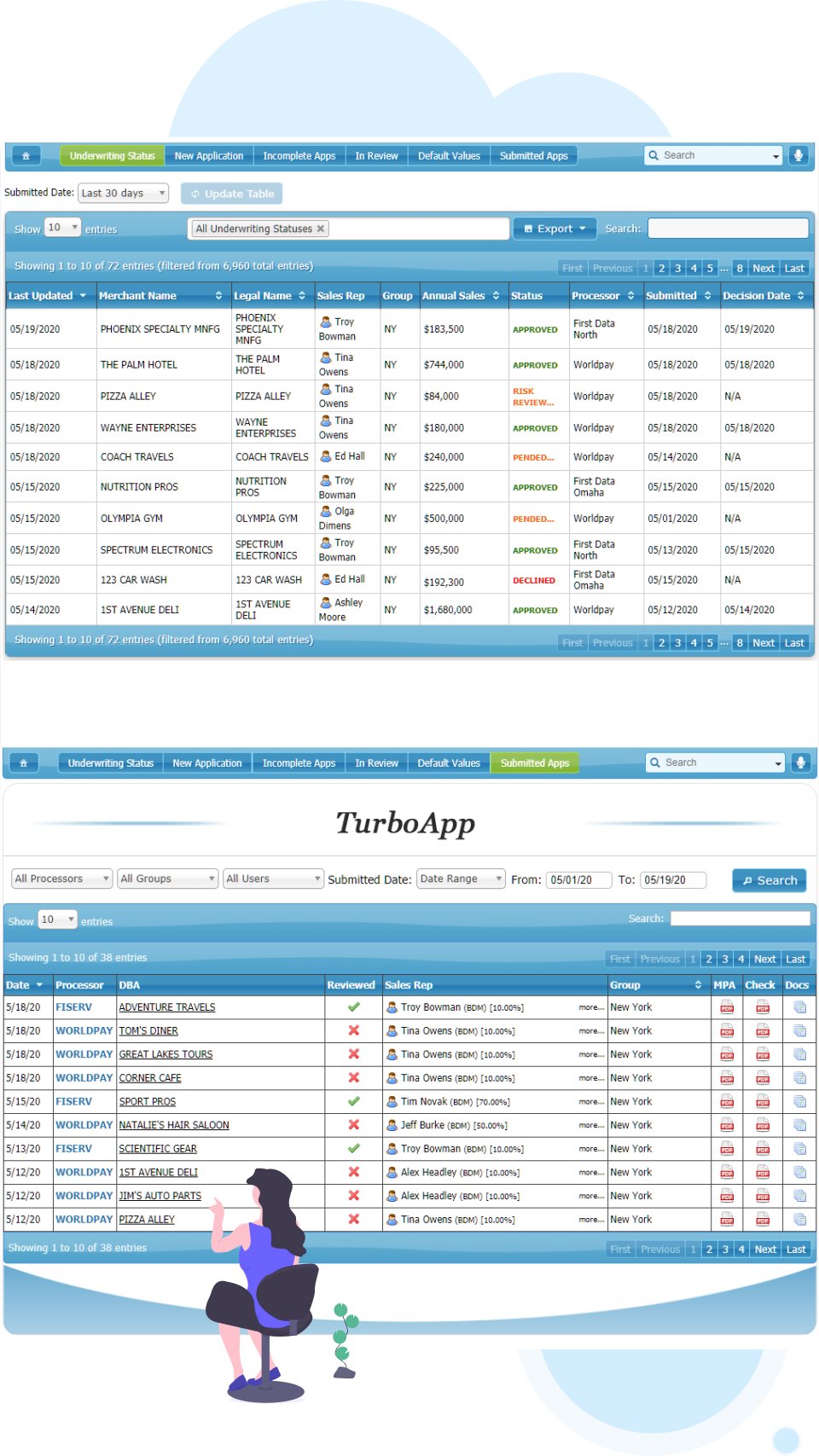 TurboApp Application Status Monitoring
With TurboApp, it's never been easier to keep a close eye on the status of applications across your entire ISO. With the system's "submitted apps" and "underwriting status" tabs, you can quickly access at-a-glance information on all of your ISO's submitted applications, including their overall success or failure, current underwriting status, and key information like processor and merchant details.
The underwriting status tab provides key data on the progress of your submitted applications. Applications are listed in an easy-to-read table, and data provided includes:
The date of the last update
The merchant's DBA name and legal name
The sales reps assigned to the account
The application group
The merchant's annual sales
The application's underwriting status
The processor
The data of submission and decision
You can easily sort applications by underwriting status, export the information in CSV or XLS format, or access further information on any application with a single click.
The submitted applications tab is a one-stop source for information on all of your ISO's previously completed TurboApp applications. Applications can be sorted and displayed by custom date ranges, individual processors, groups, and even user-by-user.
Each application provides the date, processor, merchant DBA, sales rep, and more. You can also view each application's attached MPA, void check, and additional documentation with one click.
ISO and Sales Rep TurboApp Notifications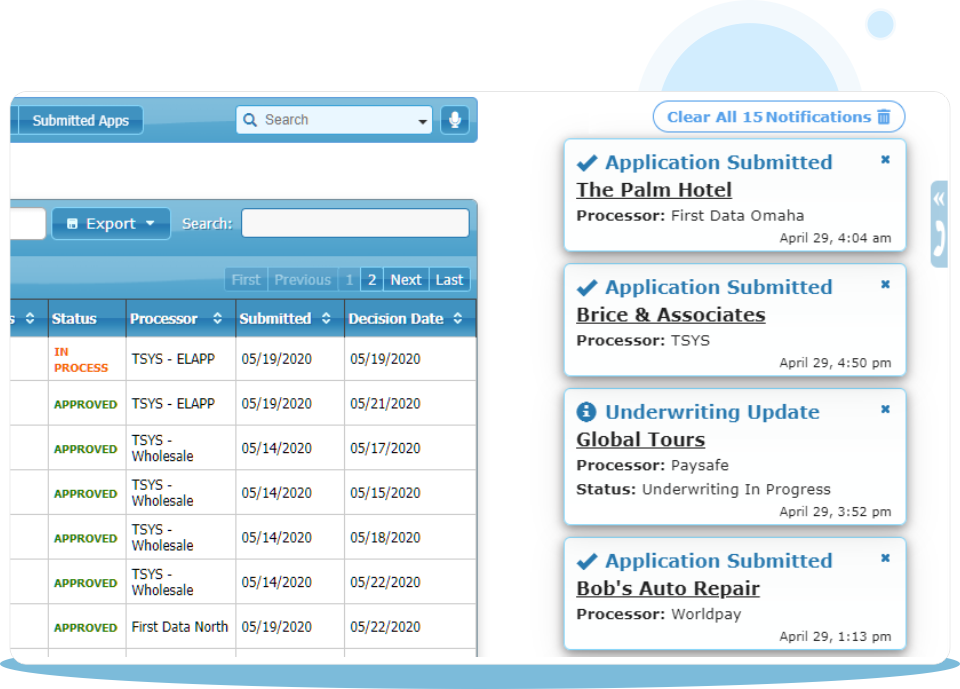 ISO and Sales Rep TurboApp Notifications
Responding promptly to application status updates is crucial to ensuring your merchants get processing as quickly as possible. The best way to ensure that happens is to keep all stakeholders in the loop whenever status changes come in, ensuring no denial or request for more records ever slips through the cracks.
TurboApp keeps your applications moving by providing instant notifications to both your ISO and the agents assigned to an application. That ensures a complete communication loop and removes the burden of passing on information to sales reps from the ISO. With TurboApp, you'll have fewer reps asking for updates on their merchants. When processors ask for additional information, agents can get to work securing it right away without having to wait for a heads up.
Payment Processor Boarding Certifications
Payment Processor Boarding Certifications
Taking on a new merchant represents a lot of risk and potential liability for a payment processor. As a result, the processors we integrate with depend on IRIS CRM and TurboApp to provide the most accurate application delivery — but they don't just take our word for it!
TurboApp is verified and certified by each of our processing partners to ensure that the applications your team submits always arrive at the processor in exactly the right format, with exactly the information required and fully validated.
Hands-Off Processor Boarding System Maintenance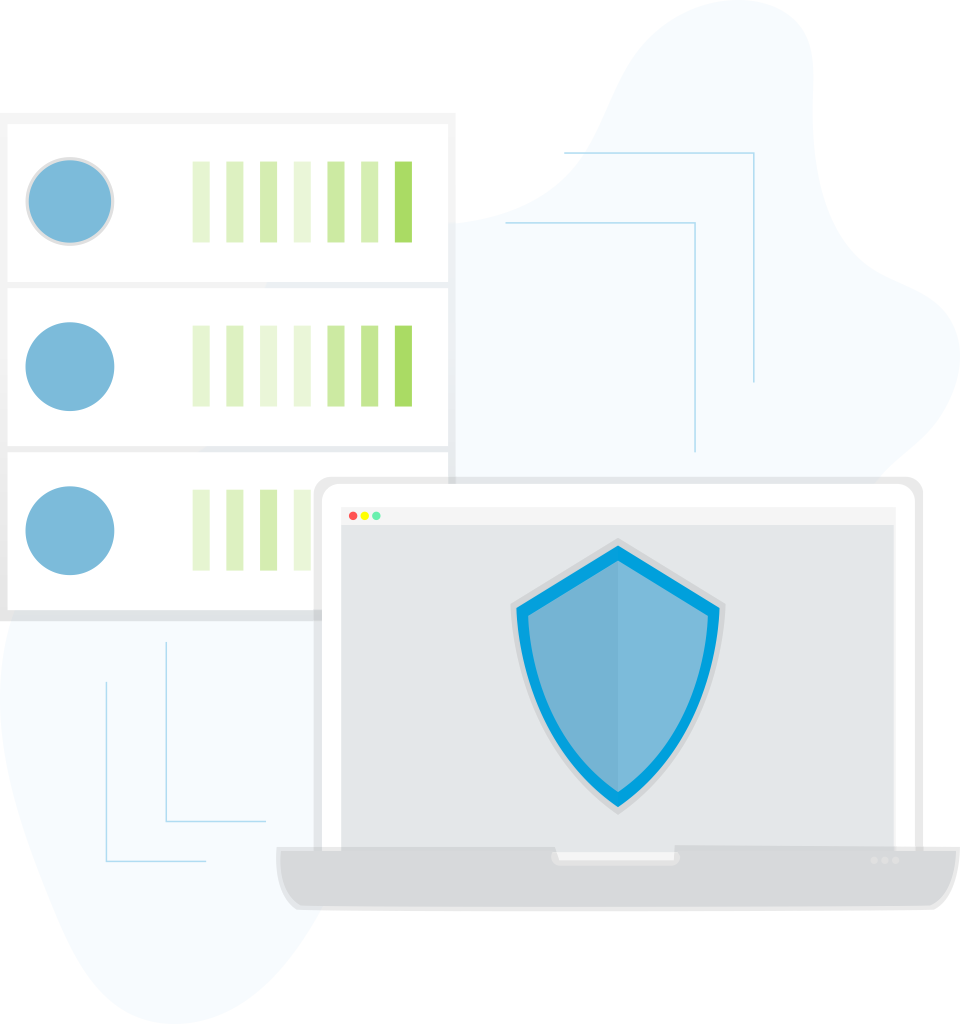 Hands-Off Processor Boarding System Maintenance
If your ISO isn't currently using IRIS CRM and TurboApp, you're probably maintaining your own in-house systems for connecting to your processing partners' boarding systems. Not only does that mean significant time involved in building those systems and the time required to train your operations and boarding staff to properly use them, it also means maintenance.
Whenever a payment processor makes a change to their boarding requirements – whether it be adding or removing a field, supporting or dropping a piece of equipment, or anything else – your IT team has to go in and program that change into your system. That represents coding, testing, rollout, and a major headache.
When you use TurboApp, that's all taken care of for you. Every payment processor requires TurboApp to be certified in order to integrate with their boarding portals, and the IRIS team stays on top of every change to ensure our platform is always up to date.
That allows you to shift the burden of maintenance from your team to ours, so you can rest assured that your boarding system will always be perfectly synced with your payment processors.
TurboApp Application Review for Experienced Agents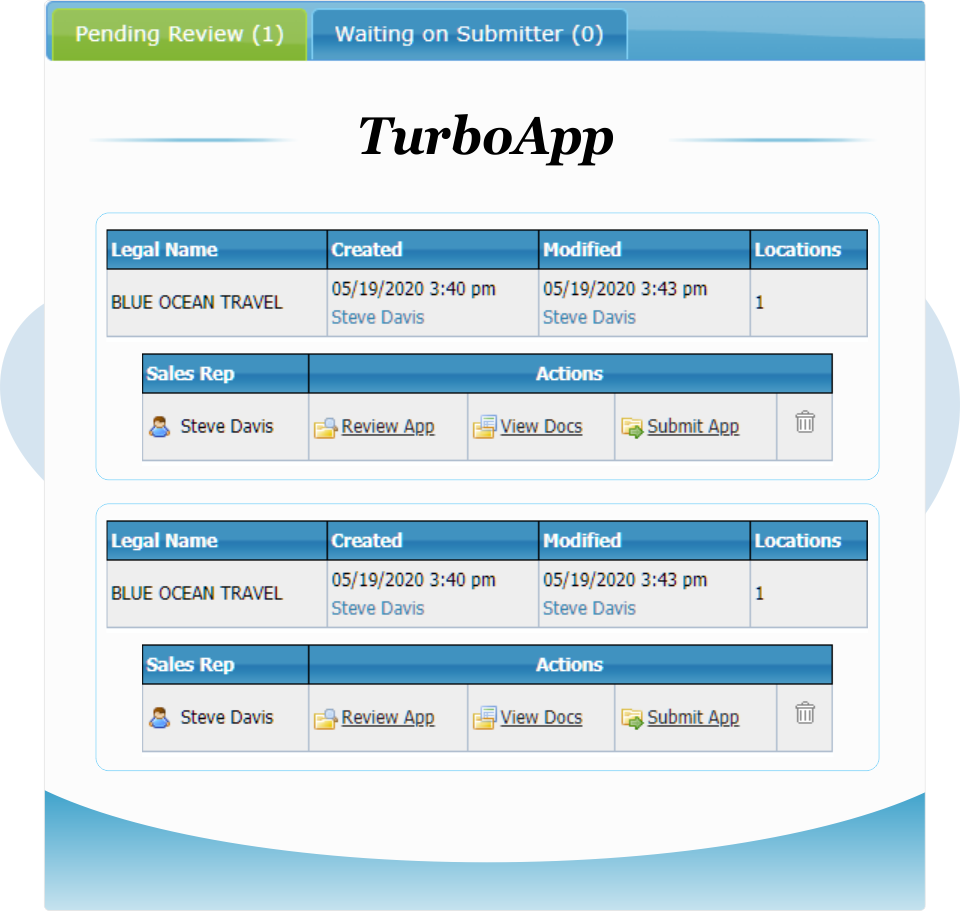 Application Review for Experienced Agents
One extremely useful feature included with TurboApp is the ability for ISOs to allow certain highly-experienced agents to handle the boarding process themselves, right up to the submission process. These "in-review" applications enable ISOs with small boarding teams to provide some breathing room by delegating most of the boarding work to their most trusted reps.
Once you've assigned the necessary permission to a rep, they can then handle every step of a TurboApp application – except for submitting it to the processor. Once they've completed their work, the saved application will become visible in the "In Review" tab of TurboApp, where your operations or boarding team can then review them before either sending them back to the agent for more information or submitting them to the payment processors.
For small boarding teams with a heavy workload, TurboApps' in-review feature helps spread the workload and ensures each application gets the attention it needs to reach the payment processor with the greatest possible chance of success.
TSYS Merchant Real-Time Maintenance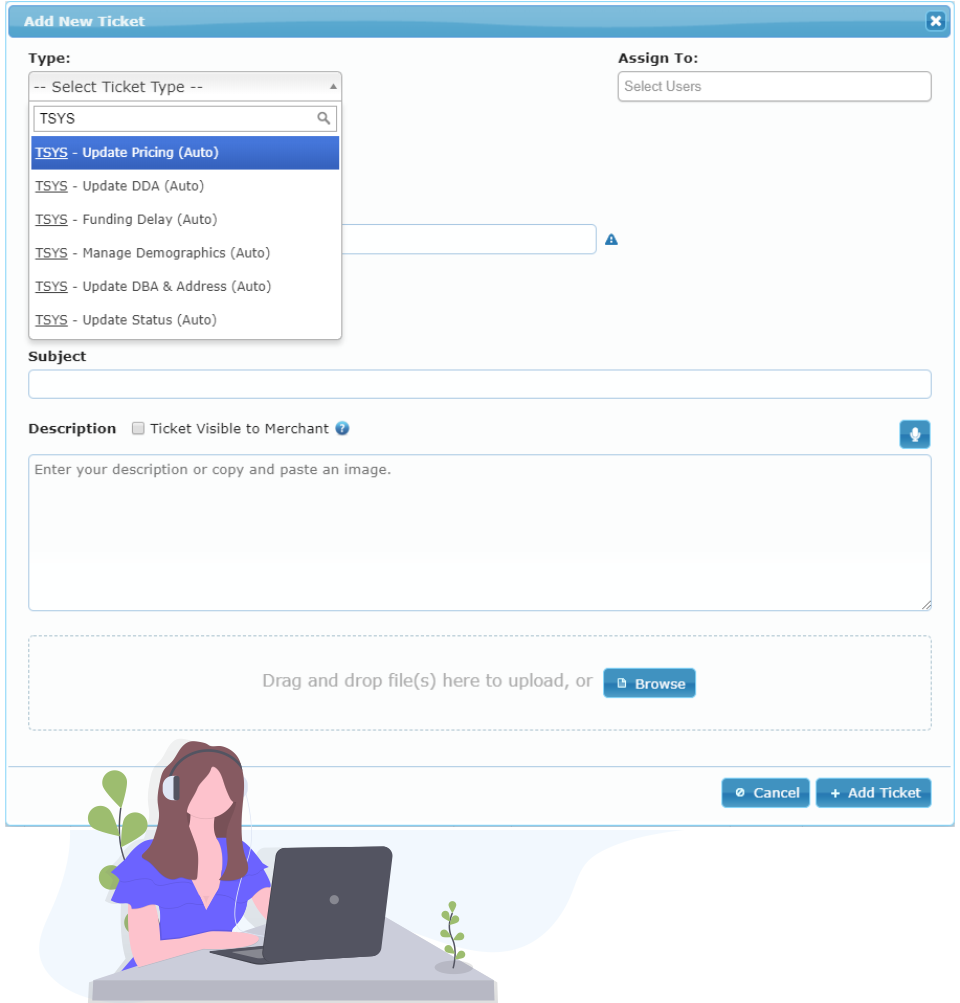 TSYS Merchant Real-Time Maintenance
Once an account has been submitted and approved by TSYS, your ISO generally needs to submit a ticket directly through the processor's support portal to change any of the merchant's key information. IRIS CRM has now integrated with TSYS's Maintenance API to make it possible for your team to make changes to update your TSYS Wholesale merchants in real-time!
IRIS CRM users can edit TSYS Wholesale merchants' information by simply clicking on the pencil icon beside any of the fields in a merchant's CRM profile. New support ticket types will also be generated in the helpdesk area of the CRM specifically for making changes to TSYS Wholesale merchants. Once they've entered the changes and submitted them, the system will send those changes to TSYS, make the changes in the mainframe, and log complete details like the old and new values, the time of the change, and who made it.
With IRIS CRM and TurboApp, ISOs partnering with TSYS Wholesale can cut the clunky TSYS system completely out of the equation and handle all of their merchant submission and management from directly within the CRM – a big time saver.
Book a free guided demonstration of IRIS CRM and TurboApp today to find out more about these powerful boarding features, and many more.
The Simple Steps Involved in a TurboApp Application
TurboApp breaks down the onboarding process into six major steps, and makes each extremely straight-forward and error-proof. Thanks to the focus on efficiency and user-friendliness, completing all six steps with TurboApp only takes about five minutes!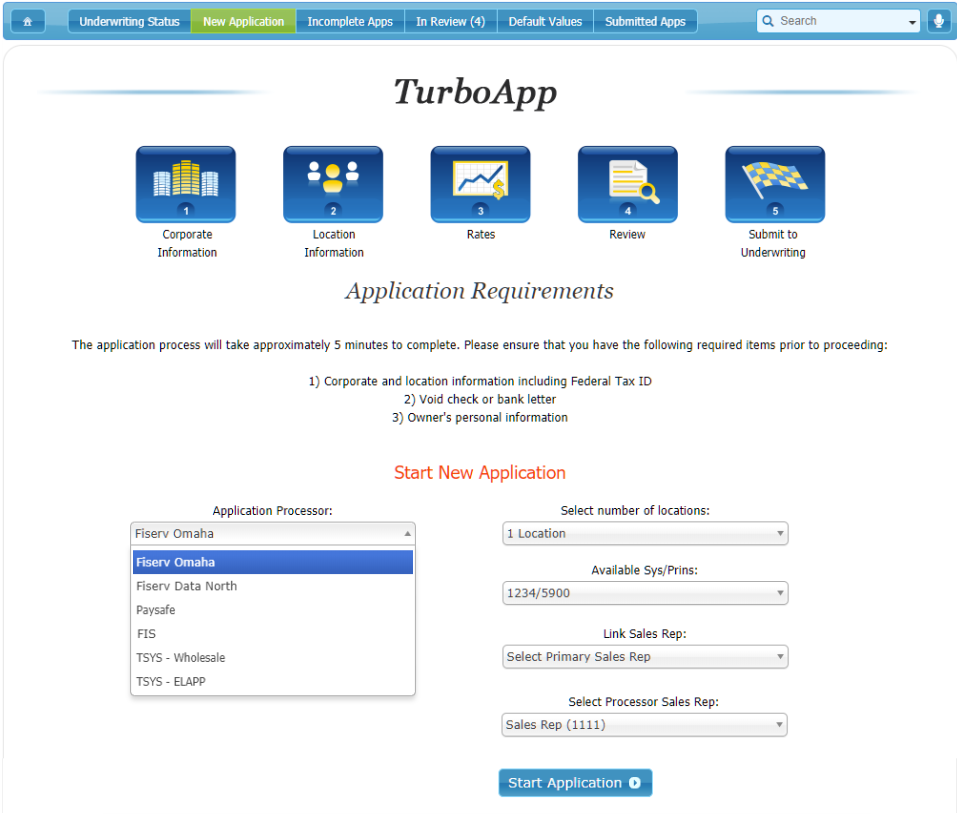 Beginning a New TurboApp Application:
To start a new TurboApp application, simply click "new application" from the TurboApp menu. The system will then ask you to select which processor you'd like to apply to from a simple dropdown menu. Once a processor has been selected, TurboApp automatically configures itself to that processor's boarding requirements.
You'll then be asked to enter two to four pieces of key information like the sales reps you'd like assigned to the application (and their splits) and some processor-specific information like the number of locations, merchant number, etc.
You can then click "start application" and get to work boarding your new merchant!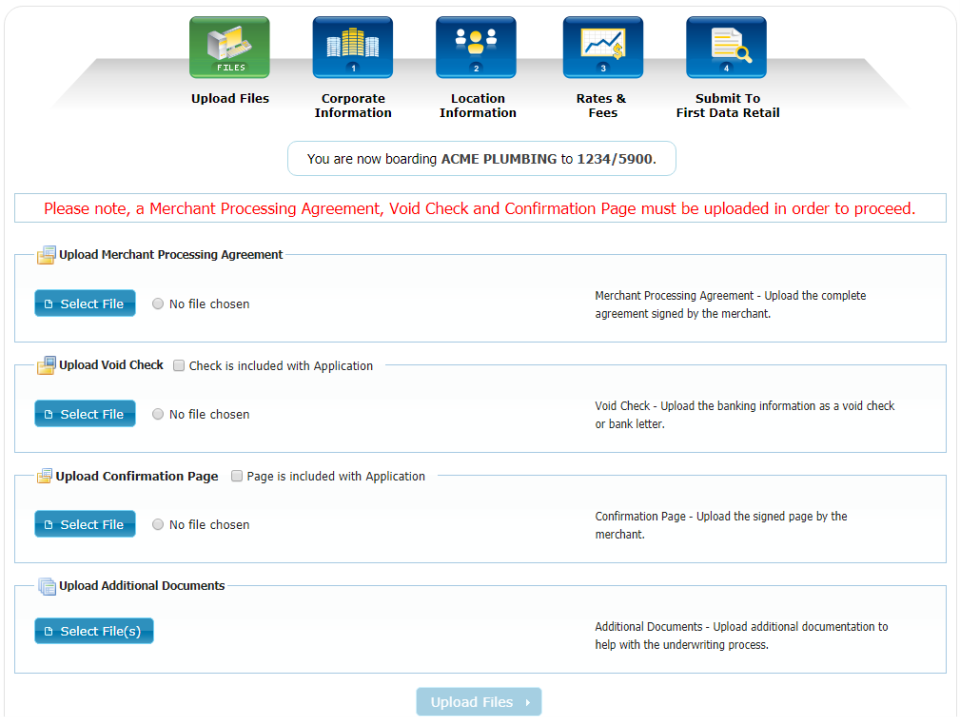 Step One: File Upload
Once your application is underway, the system will ask you to upload any necessary documents. Every new merchant account requires a merchant processing application (MPA) and void check, so you'll need to upload both. The system will then use the e-signed MPA you upload to populate most of TurboApp's fields.
Depending on the processor, certain additional documentation may be required. TurboApp will alert you to any additional mandatory documents before submission can be continued or completed. You will also have the option to upload any optional supporting documentation.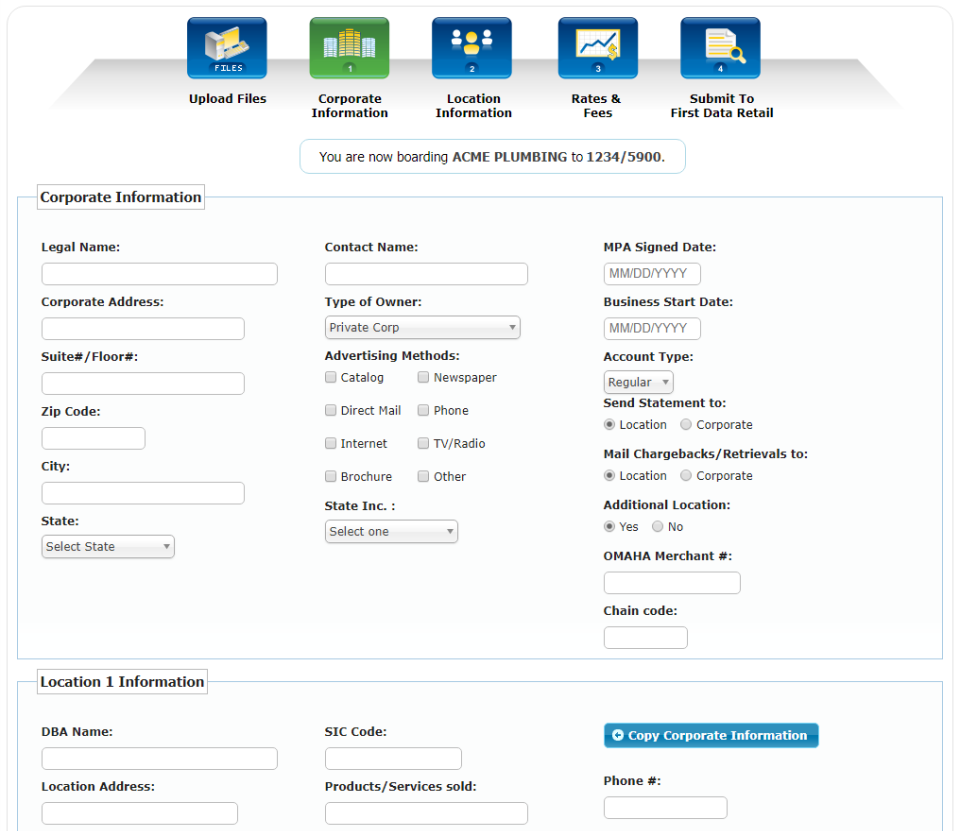 Step Two: Corporate Information
In this section, TurboApp will ask for all the necessary information covering top-level corporate information, DBA information, vital information for the specific location being applied for, shipping information, hierarchy information, and more.
That might sound like a lot of data, but don't worry because almost all of it will have been pulled from the merchant's MPA and auto-populated into the necessary fields based on the processor's needs. The information will also have been validated to ensure the system received the types of data it expects.
All you will need to do is review everything for accuracy and move on to step two. If anything mandatory is missing, the system will alert you and require input before allowing you to move on, ensuring you'll never miss a key field.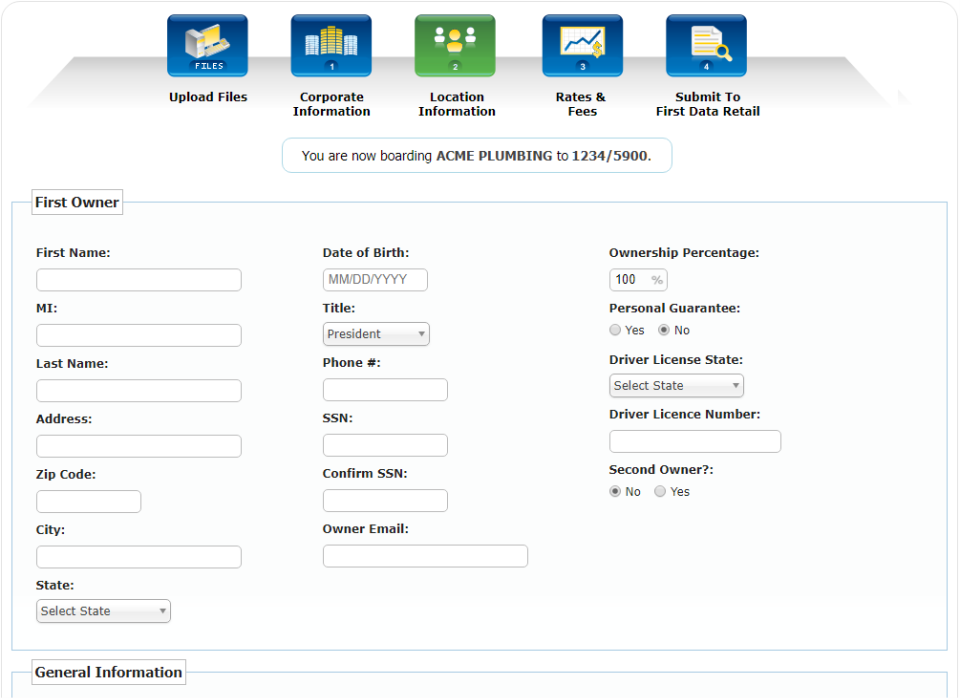 Step Three: Location Information
The third step covers location-specific information like the owner(s), site surveys, processing information, bank information, facility information, and, depending on the processor, refund policies, equipment configuration, and more.
Once again, the data will be automatically pulled from the MPA and laid out for your review. The system will validate your inputs in any fields where you need to manually enter data and ensure that everything is ready to go before you move on to the next step.
Note: Equipment is a short additional step for TSYS.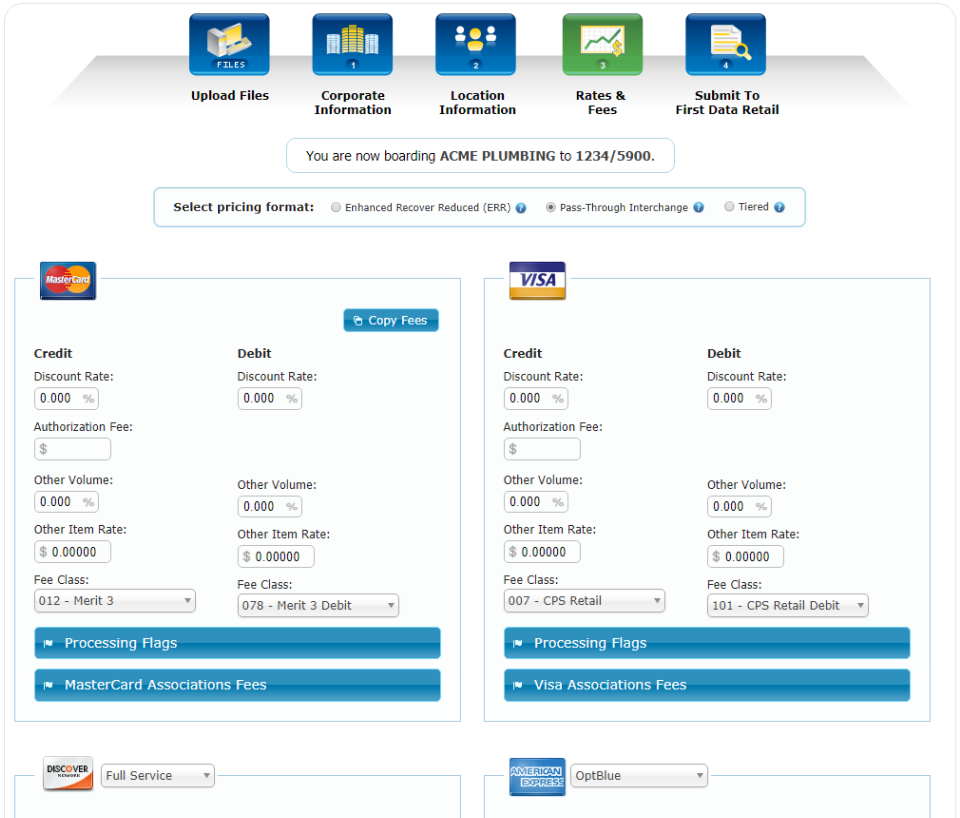 Step Four: Rates and Fees
In the final step before review and submission, you'll need to set the rates and fees your new merchant will be charged on their transactions and services. To make things quicker and easier, TurboApp will automatically populate the fields with any defaults you have assigned.
If you do want to make changes, you can select from pre-saved pricing plans or manually set the pricing type and individual rates and options for all of the merchant's accepted payment types.
One extremely useful TurboApp feature is the ability to set certain fees as read-only, meaning the user processing the application won't be able to change the defaults. That ensures that your team can't accidentally delete or change any mandatory additional fees you may charge, stopping a potential slow bleed in your profits before it can even get started.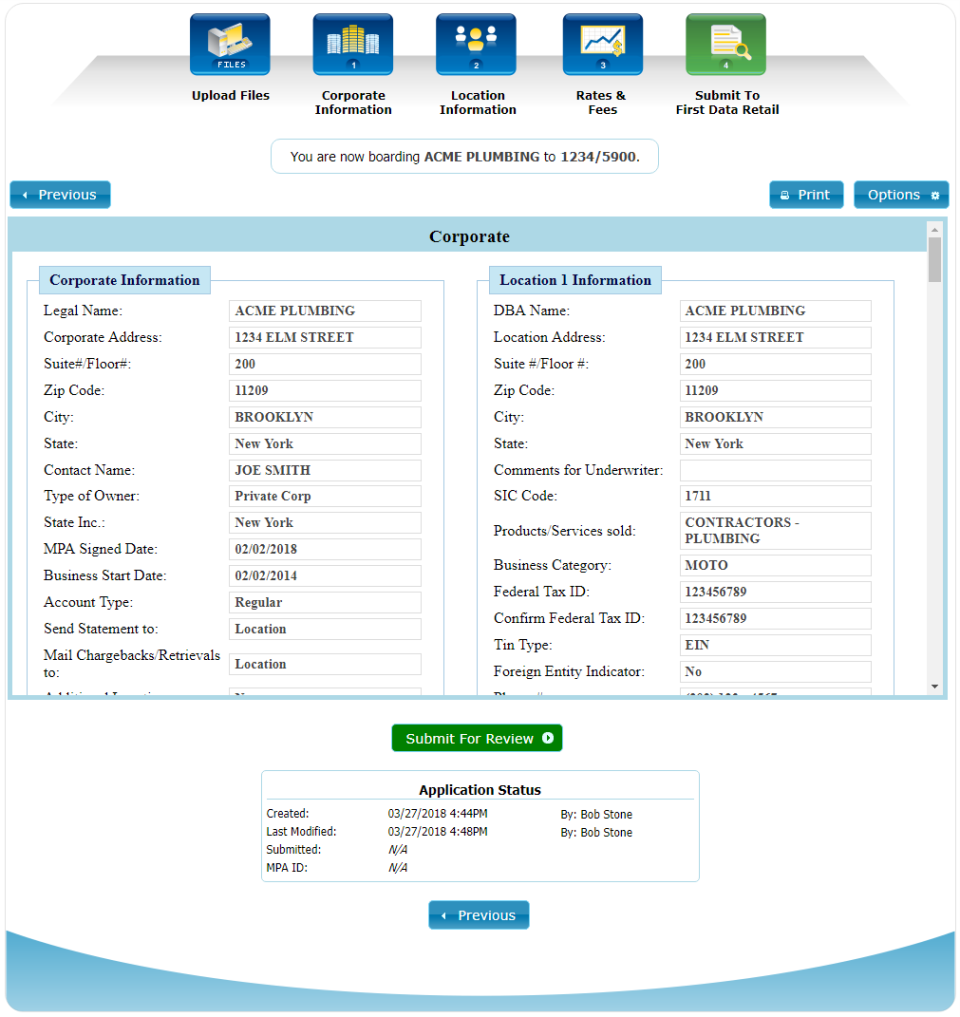 Step Five: Review and Submit
Once your rates and fees have been entered, your application is complete! In the fifth and final step, TurboApp will compile all the application's data and present it for your review on-screen. Once you've ensured everything looks good, just press submit.
Your properly formatted boarding application will be transferred to the processor's underwriting department, – and all after just five minutes of work!
The completed application will then appear in both the "submitted applications" tab of TurboApp for your review at any time, as well as in the "underwriting status" tab for information on underwriting updates.
TurboApp saves your work automatically every 30 seconds, so if at any point in any of the five steps you realize you're missing key information, your progress will be saved and you can resume again from right where you left off once the new documentation is in.
Ready to experience TurboApp's simple five-step boarding process for yourself? Contact us today to schedule a free demonstration of IRIS CRM!
Schedule Demo