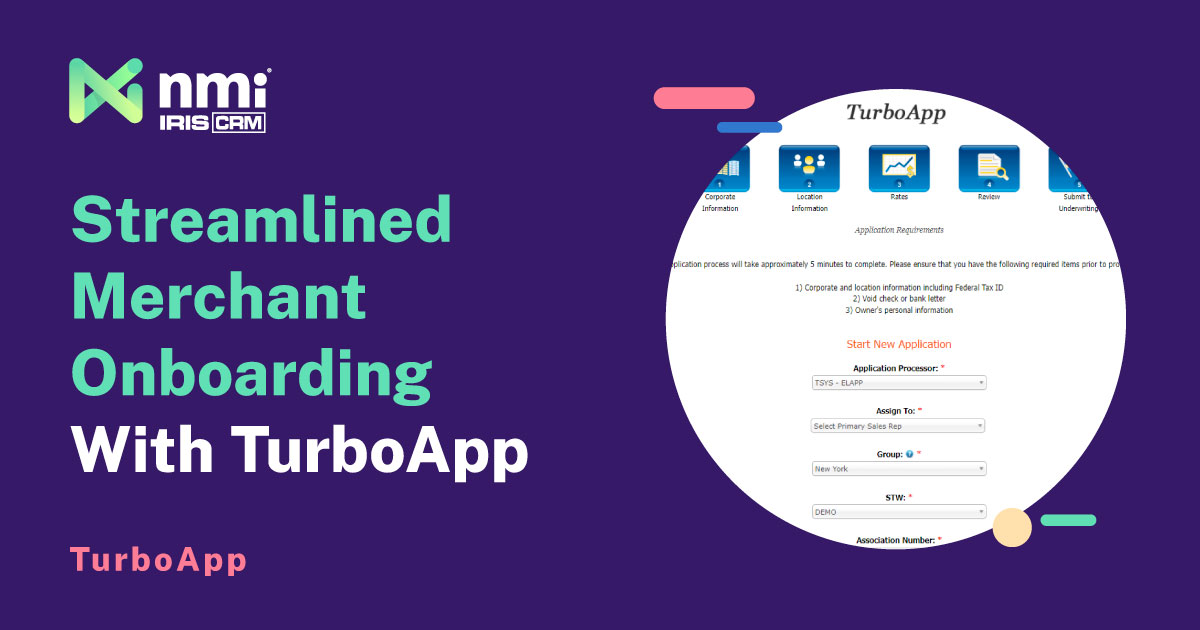 TurboApp: Streamlined Merchant Onboarding with IRIS CRM's Most Powerful Tool
The payment processing landscape is fiercely competitive, and independent sales organizations (ISOs) and other acquirers face numerous challenges in their quest for success. One of the most significant pain points for many is the merchant onboarding process, which is often slow, error-prone and labor-intensive. Inefficient onboarding can lead to lost sales opportunities, strained relationships with merchants and degraded profits. In addition, manual data entry and cumbersome paperwork can result in costly errors that cause delays and jeopardize the entire onboarding process.
To address the challenges acquirers face with this key aspect of operations, IRIS CRM (an NMI company) developed TurboApp – an innovative automated merchant onboarding solution that cuts the boarding process from 30 minutes or more to five minutes or less.
This cutting-edge solution is designed to streamline the application submission process, eliminate manual data transfer, minimize errors, and accelerate onboarding for merchant acquirers. In this article, we'll explore the features and benefits of TurboApp and examine how it helps businesses seeking to optimize their merchant onboarding processes, maintain strong client relationships, and gain a competitive edge in the payments industry.
What is TurboApp?
TurboApp is an automated merchant onboarding solution designed to streamline the application process for independent sales organizations (ISOs), payment facilitators (PayFacs) and even independent software vendors (ISVs). Seamlessly integrated with IRIS CRM – the payments industry's leading CRM solution – TurboApp simplifies and accelerates merchant onboarding by making the entire process paperless and automating the most time-consuming tasks.
TurboApp's core functionality involves extracting data from digital merchant processing applications (MPAs) and intelligently populating a submission system directly connected to the industry's top major processors. Advanced data extraction algorithms pull information straight from the MPA and populate the matching fields in TurboApp. That automated transfer eliminates the manual data entry that traditionally slows down onboarding and introduces so many opportunities for errors. Direct integration with industry-leading payment processors enables users to submit merchants with a single click once all the data has been reviewed for accuracy, further enhancing the onboarding experience.
TurboApp saves companies dozens of hours and thousands of dollars for every 100 MIDs they onboard by eliminating bottlenecks and reducing labor costs and rework. Better still, it speeds up onboarding to the point that traditional acquirers can compete with the experience provided by companies like Stripe and PayPal. 
Key Features of TurboApp
Electronic Signature Support
IRIS CRM's forms are powered by Adobe Sign, allowing merchants to complete and legally sign MPAs digitally, either with a traditional PDF or through an online form. eSignature cuts down on physical paperwork, speeds up applications, and maximizes merchant convenience. It's also the key to TurboApp's ability to take in MPAs and extract the relevant information, eliminating the need for manual data transfer.
By adopting a paperless MPA process, ISOs, ISVs and payment facilitators can provide merchants with the kind of efficient online signup experience they'd expect from leading third-party processors like Stripe, PayPal and Square. It also reduces the costs and hassle of managing and storing physical paperwork. 
Automated Application Population
TurboApp's automated field population streamlines the merchant onboarding experience by efficiently and accurately filling out required fields matched to the processor's application portal. The following represents the simple step-by-step process that TurboApp uses to automate applications, cutting boarding down from 30 minutes to five or less, even for inexperienced users. 
Step One: An agent or operations employee selects a processor to board the merchant to and uploads a digital merchant application. 
Step Two: TurboApp automatically configures itself to perfectly match the fields required by the selected processor's native boarding system. 
Step Three: TurboApp uses field mapping to analyze the MPA and pull the necessary data from the document, automatically populating each field in its pre-configured application. No manual data transfer is required on the part of the user. 
Step Four: The user reviews the merchant data to ensure accuracy. TurboApp's data validation will warn users if the information a merchant submitted in a field doesn't match the format the processor expects. 
Step Five: The user reviews pricing. TurboApp enables preset fee schemes to be set so even pricing is automated, but users can also manually make adjustments where necessary in a matter of seconds. 
Step Six: The user presses submit and the finished application is sent directly to the processor. 
Seamless Integration with Major Payment Processors
TurboApp seamlessly integrates with most of the top payment processors in the industry through direct-to-processor connections, ensuring a smooth and efficient onboarding process for everyone involved. Turbo App currently offers direct integration with the following major payment processors:
Fiserv AccessOne Omaha for Retail ISOs, Wholesale ISOs & FSPs (formerly First Data Omaha)

Fiserv AccessOne North for Retail ISOs, Wholesale ISOs & FSPs (formerly First Data North)

TSYS ELAPP for Retail ISOs

TSYS Express & PPM for Wholesale ISOs

Paysafe iAccess

Priority Payments VIMAS for Wholesale ISOs

Worldpay MAG (formerly Vantiv)
By providing seamless, direct integration with these industry-leading processors, TurboApp empowers ISOs and other acquirers to offer merchants a wide range of processing options tailored to their unique business needs. This flexibility improves the merchant experience and eliminates the need for acquirers to build or maintain expensive custom boarding integrations for each processor they work with.
Real-time Application Status Tracking
TurboApp's real-time application tracking provides users with up-to-date information on the progress of submitted applications. This functionality ensures that all parties involved in the merchant onboarding process are informed of each application's status and any changes, enabling them to stay on top of developments and respond accordingly.
The importance of real-time status tracking lies in its ability to prevent unnecessary delays. If a processor requires additional information or clarification during the application review, the real-time updates enable the acquirer to quickly address the request and get the necessary information from the merchant. That ensures prompt application updates, which keep the process on track and reduce the average time it takes to onboard new merchants.
The Unparalleled Value TurboApp Offers Merchant Acquirers
Enhanced Efficiency
TurboApp significantly reduces the amount of time and labor involved in both the onboarding process and initial application signing. This automation leads to faster application processing, allowing your team to focus on other crucial tasks.
With e-signed digital MPAs and TurboApp automated onboarding, merchant acquirers can save up to 83 hours per 100 MIDs. For small ISOs with limited resources, that means the ability to bootstrap and redirect money, time, and people toward driving growth. For large acquirers, it means saving hundreds of hours and potentially tens of thousands of dollars month in and month out. 
Improved Accuracy
Humans are good at a lot of things, but accurate data transfer isn't one of them. TurboApp minimizes the risk of human errors that can occur during manual data entry – errors that can slow down an application at best, and undercut profits or even tank applications outright at worst.  
Competitive Advantage
Payments is a hyper-competitive space, and any advantage is a potential difference-maker. Today's merchants increasingly demand faster, simpler signup experiences – up until now, a huge advantage for large third-party processors like PayPal and Stripe. But now, with TurboApp, acquirers can sell traditional merchant accounts with a similar level of speed and convenience. IRIS CRM's integration with Agreement Express takes things a step further, enabling acquirers to complete the onboarding and underwriting processes in a matter of minutes. The speed, accuracy, and convenience provided by these systems put users on a level playing field with PayPal, Stripe, and Square, and provide a huge advantage over traditional acquirers still doing things the old way. 
Partner with IRIS CRM and NMI to Revolutionize Your Onboarding
TurboApp, the automated merchant onboarding solution built into IRIS CRM, offers a range of powerful features designed to streamline the onboarding process for merchant acquirers, including ISOs, payment facilitators, and ISVs. With automated application population, seamless integration with major payment processors, electronic signature support, and real-time application status tracking, TurboApp provides immense value by enhancing efficiency, improving accuracy, and maximizing competitiveness.
If you're an acquirer looking to optimize your merchant onboarding process and stay ahead of the competition, now is the ideal time to explore TurboApp. Reach out to a member of our team or schedule a free guided demonstration of IRIS CRM and TurboApp today.