TurboApp: Your Merchant Boarding Solution
One of the easiest ways you can grow your ISO is by improving your merchant boarding process. Merchant boarding, also known as merchant onboarding, is the process that occurs after a sales agent has recruited a new merchant and closed the deal. The onboarding process kicks off once a merchant signs their MPA, or merchant processing agreement.
Merchant onboarding can be incredibly complicated and time-consuming – particularly when ISOs are looking to board merchants to multiple processors. Each processor has a different process and unique portal that your team needs to master to board merchants correctly. If even one aspect of the merchant boarding application is entered incorrectly or missing key data, it can cost your merchants in the form of lost revenue. It also costs your ISO time and money spent by your team on manually submitting the application to the processor.
Enter TurboApp, IRIS CRM's proprietary boarding module. TurboApp makes merchant onboarding an efficient process, even when boarding to multiple processors. This ensures that your ISO can board more merchants in less time and with more successful onboardings thanks to more accurate, automated data entry.
Click here to schedule a free guided demonstration today and we'll show you exactly how IRIS CRM and TurboApp can supercharge your ISO!
TurboApp Features That Benefit Your ISO
Faster Onboarding to Top Processors
First, TurboApp is integrated with six of the top payment processors in the world, including TSYS, Worldpay, First Data Omaha, First Data North, Priority Payment Systems, and Paysafe.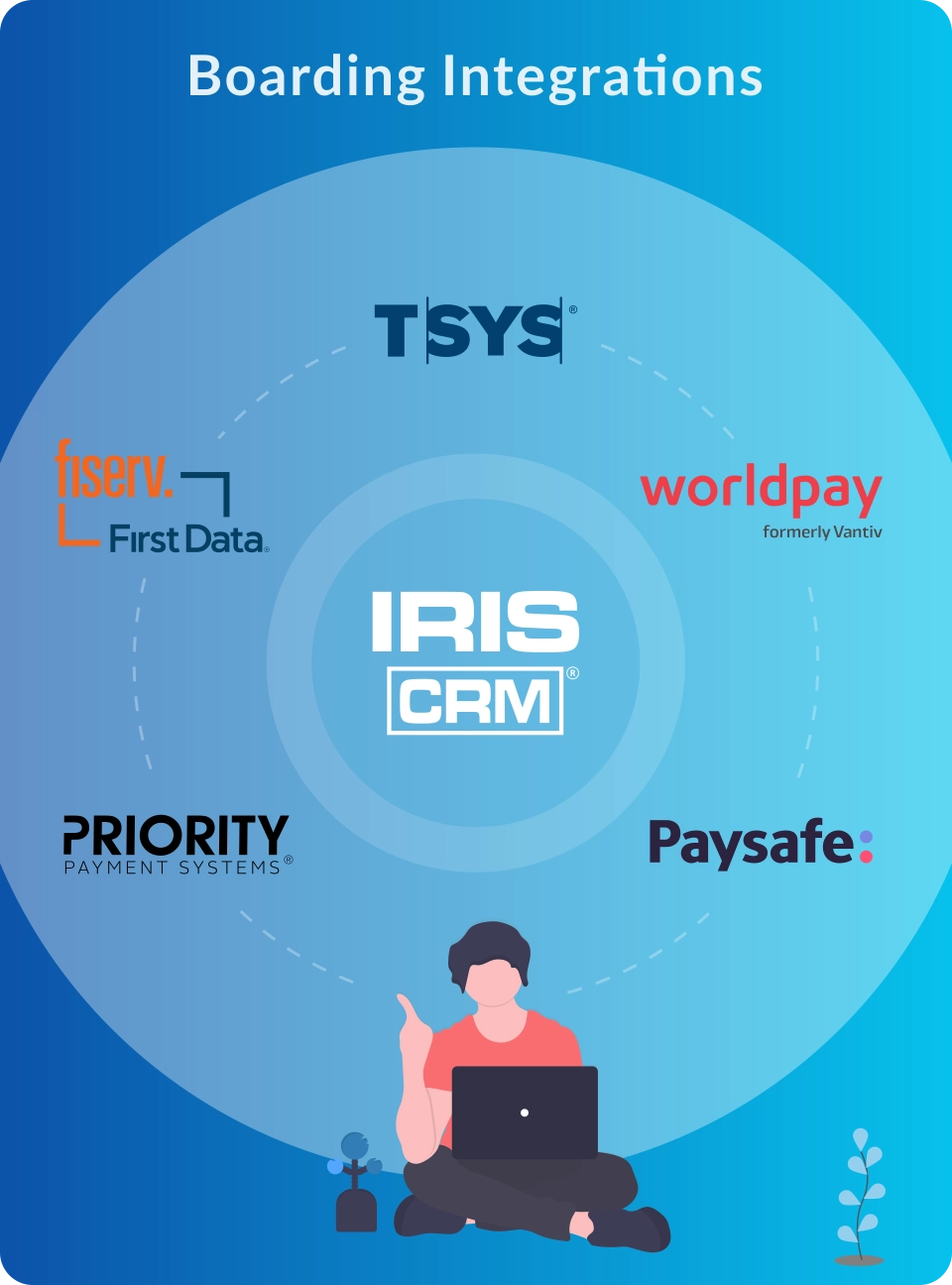 By incorporating IRIS CRM's built-in e-signature capability, powered by Adobe Sign, all of the relevant data from a merchant's MPA is automatically imported into any of the top payment processor's portals. TurboApp also takes care of the different requirements for boarding to each processor by knowing exactly what data is required by each processor. TurboApp automatically configures to the selected processor and accurately sends the right data to the right place in the payment processor's interface.
In the past, your ISO administrators would have to learn and master the onboarding portal for every payment processor that you'd like to onboard merchants to — but not anymore. Now they can swiftly and accurately board merchants to any of the six top processors in the world, right in IRIS CRM!
No More Costly Data Errors With Auto Data Transfer
Say your ISO administrators are absolute experts on the onboarding portal for every top payment processor. That's amazing, but it still involves manual data entry. The admins have to check the merchant's MPA, manually add the required data in the proper sections for the onboarding portal, and ensure that all of that information is added with 100% accuracy. Otherwise, the boarding process can fail and they are back to square one.
TurboApp is the answer. By automatically pulling the data from a merchant's e-signed MPA and transferring the data into the proper places on the onboarding application for these top processors, TurboApp removes the risk of manually inputting data. No matter how good an administrator is, they simply can't guarantee 100% accuracy every time. TurboApp can, and your ISO can start taking advantage of this enormous benefit right now to speed onboarding, increase your team's capacity, and grow your residuals portfolio in less time than ever before.
Easy Agent Residual Split Assignment and Permissions
Every time you start to onboard a new merchant to any processor, the system will likely ask you to do two things almost immediately: assign the agents and administrators that will have access to the new merchant's account, and tell the system what you'd like the split percentage to be for each person on the account – either gross or net.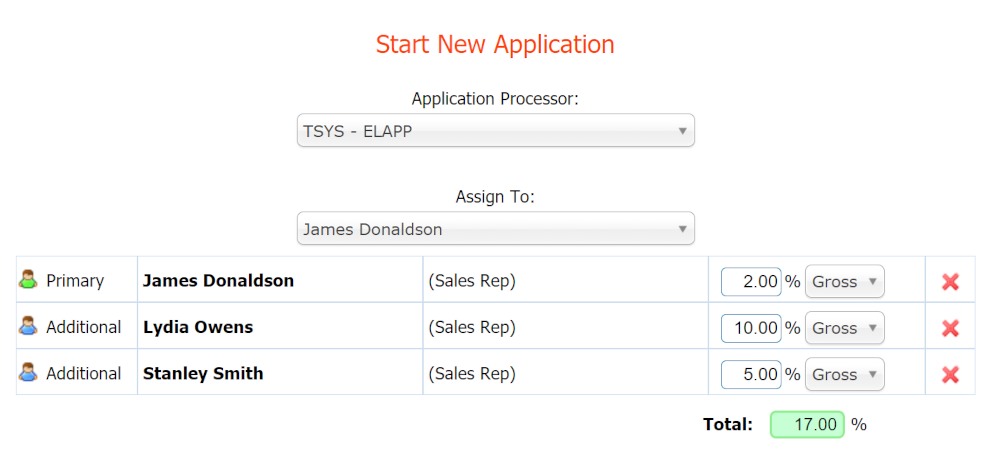 With TurboApp, you can set this up in seconds for each app with dropdown menus that make the process a breeze. By streamlining this process, you can be confident that only the right admins and agents have access to a particular merchant's information – and that everyone is getting the right split percentage. And it only takes a few seconds per application!
Configure Default Values in Seconds
While TurboApp handles the vast majority of the work involved with onboarding a merchant to a payment processor, not every single aspect can be automated. Have no fear though – we've made the parts that can't be automated much easier too.
One task that can't be automated is setting the rates and fees for each new merchant. TurboApp makes this process easier with the ability for ISO administrators to set default values for your rates for every major card type, as well as the variety of other payment options available like EBT, pin debit cards, and echecks.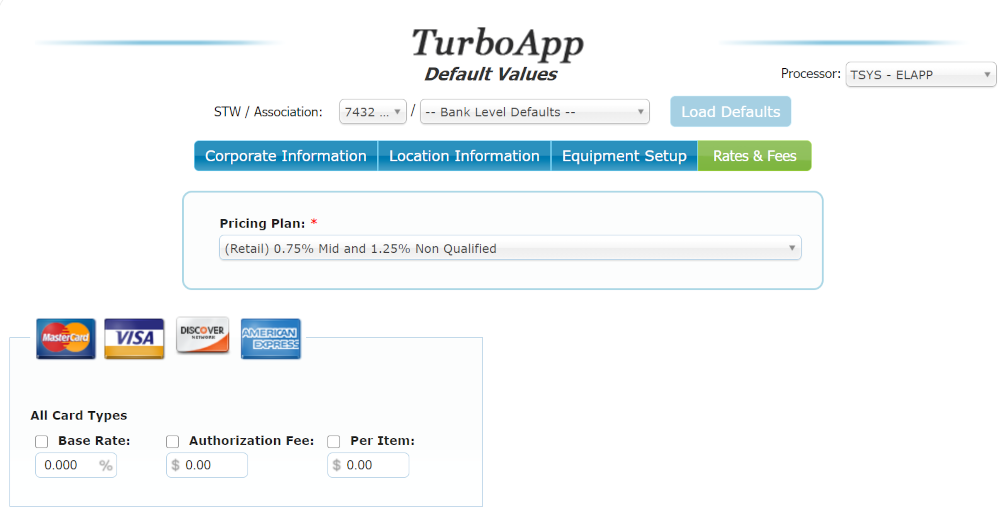 Now, when your ISO admin reaches the rates and fees section of TurboApp, the default values will be set for each of the card and payment types. Your admins simply need to update any rates and fees that are unique to the specific merchant and then proceed to the next step in the automated boarding process through TurboApp. In addition, you can lock certain rates and fees that you're certain will be universal across all of your merchants so that the onboarding team doesn't even have to worry about editing or updating – because they are locked into the right percentage right from the beginning.
Autosave for TurboApp Applications
Autosave has saved us all from losing work time and time again. We've added this functionality to our TurboApp applications so you never have to worry about losing your work – even if you're interrupted in the middle of one. TurboApp saves your progress every thirty seconds, and you can return to any application that was started to finish at your leisure. 
Field Validation Throughout Applications
The majority of onboarding portals directly to leading processors are missing a very important feature: field validation. Not TurboApp. Whether the application is missing a required field or contains the wrong data, TurboApp will let you know before you submit the application to the processor. This makes it impossible to submit an application with any empty required fields or incorrect data, which means fewer rejected applications and more merchants onboarded in less time. 
TurboApp Application Status Monitoring
Stay on top of every application your team submits with TurboApp Application Status Monitoring. To view the status of all applications that are in progress, check out the "Underwriting Status" tab. This tab contains important merchant and processing information, as well as the current underwriting status for each application.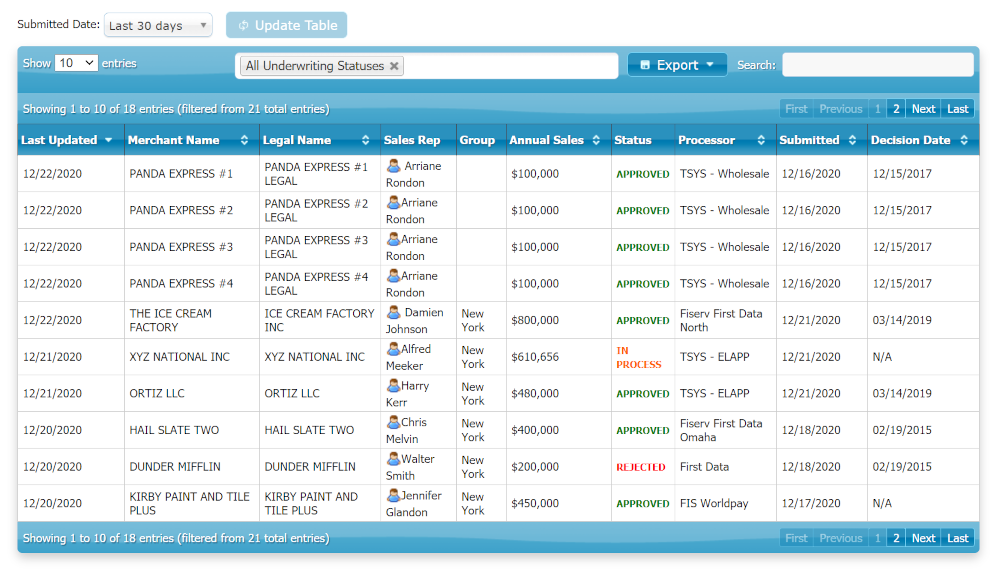 Head to the "Submitted Apps" tab for information on every application that was previously completed. This tab shows the date, processor, sales rep, and more. You can even access a merchant's MPA and additional documentation right from the same tab.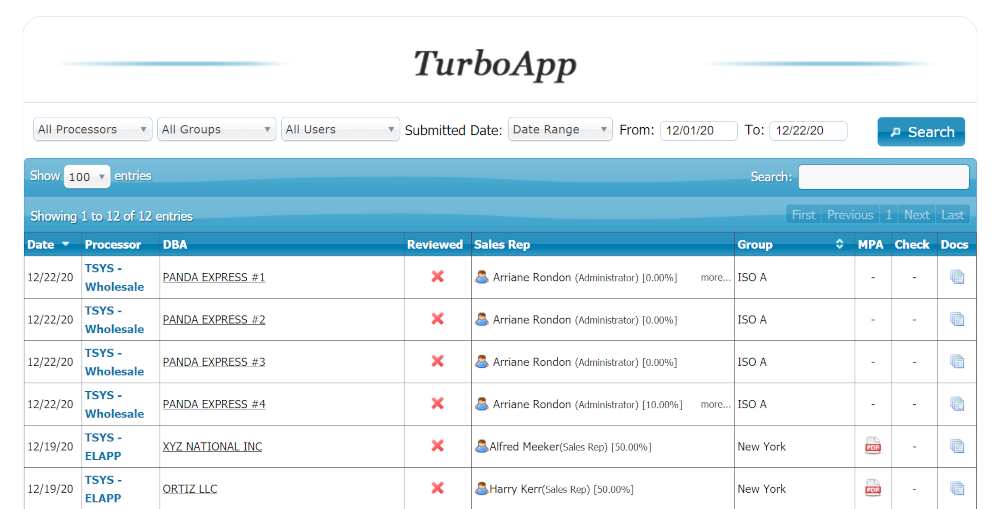 TurboApp Notifications for ISOs and Sales Reps
Are your agents constantly asking you for updates on their merchants? TurboApp has the merchant boarding solution, with real-time notifications for your ISO and anyone assigned to an application. Ensure that you and your team are always up-to-date, and you'll never have sales agents asking for updates – because they already have them, right in their browser or on the IRIS CRM app for their mobile device. ISO admins can also work more quickly with real-time updates as their applications are processed through TurboApp, without needing to manually check whether an application has progressed or not for a particular merchant.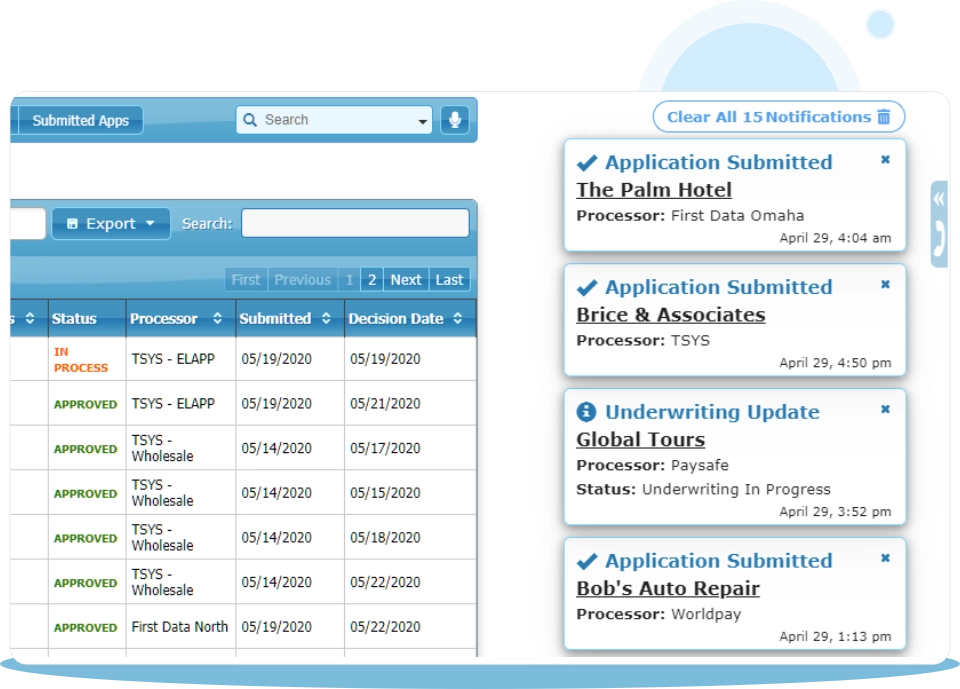 Verified and Certi
fied by Processing Partners
Every application that your team submits through IRIS CRM to our payment processing partners has been verified and certified to ensure that the data is formatted exactly how each processor requires.
Your team can be confident that when they submit an application through TurboApp, the information is validated and submitted in exactly the right format, every single time.
Effortless Proces
sor Boarding System Maintenance
Each payment processor has its own onboarding portal, with a specific process that can change at any time. Processors can add or remove fields, shift the types of equipment they support, and more – all without any warning for the ISOs that rely on their payment services.
IRIS CRM takes care of these changes so that you never have to worry about a processor updating their system again. TurboApp is verified and certified, which means that our team is constantly working with the processors to ensure that TurboApp is up to date with their latest onboarding portal requirements. 
Never again will your IT team need to adjust your system to properly submit merchants for onboarding to leading processors. The system will always be in-sync with the payment processors, and your team doesn't have to lift a finger!
Application Review Available for Experienced Agents
Have a small boarding team but experienced, trusted agents? Let them take on some of the onboarding work. TurboApp enables you to set permissions that allow experienced agents to handle the onboarding process up until the app is ready for submission. 
Once the agent has completed onboarding up to the submission step, admins can see the saved application in the "In Review" tab. From there, it's a quick review and then the application is either sent back to the agent for more information or submitted to the payment processor.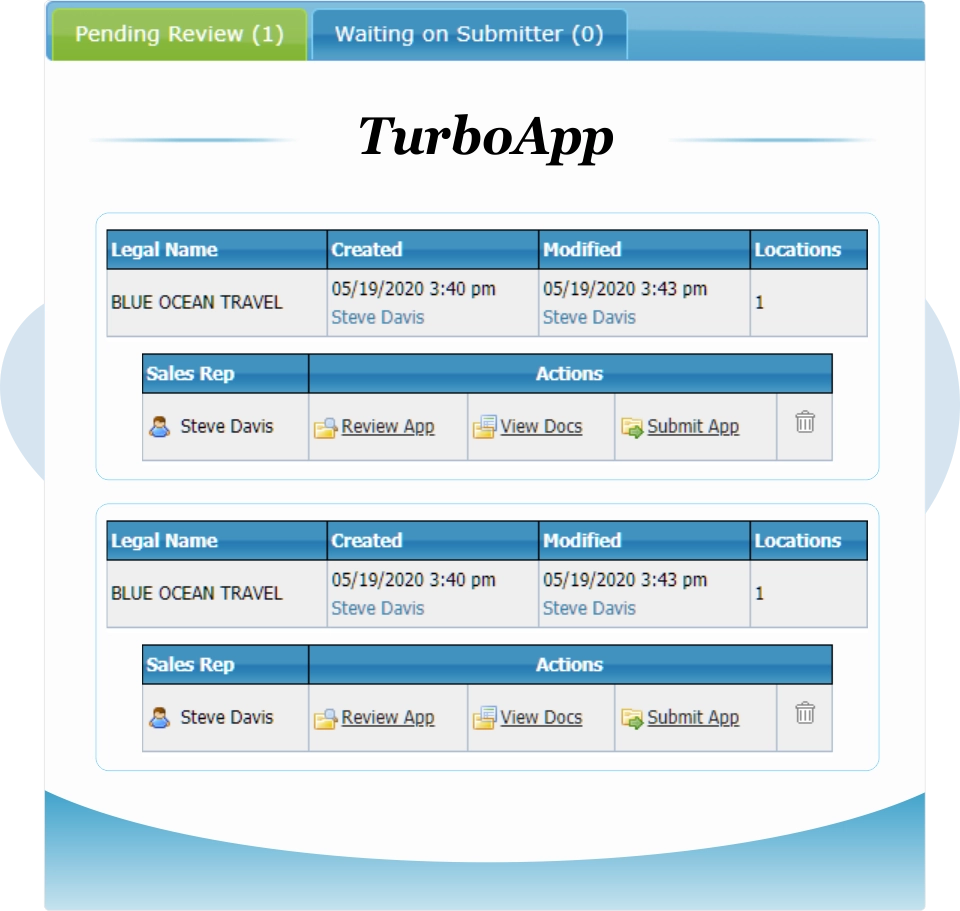 TSYS Merchant Real-Time Maintenance
One TurboApp benefit specific to TSYS is the ability to perform real-time maintenance for TSYS right from IRIS CRM. In order to update any merchant's key information in TSYS, typically an ISO would have to submit a ticket directly to TSYS' support portal and then wait for the information to be updated. Not anymore, thanks to TurboApp! IRIS CRM clients can simply update TSYS Wholesale merchants' information in two different ways.
First, admins can simply click the pencil icon next to any of the fields in a merchant's profile and update the information right there. A corresponding Helpdesk ticket will be instantly created that, once saved, will be submitted to TSYS in real time. You can see the exact changes that were made in the System comment in the ticket that was created.

There is another way to update TSYS information as well, directly in the Helpdesk. Start by creating a new Helpdesk ticket, select the merchant you'd like to edit, and then select the TSYS ticket type corresponding to the type of edit you're looking to make. There are a total of 9 TSYS ticket types, including Update Pricing, Update DDA, Funding Delay, Manage Demographics, Update DBA & Address, Update Status, Add Equipment, Update Equipment, and Copy Equipment.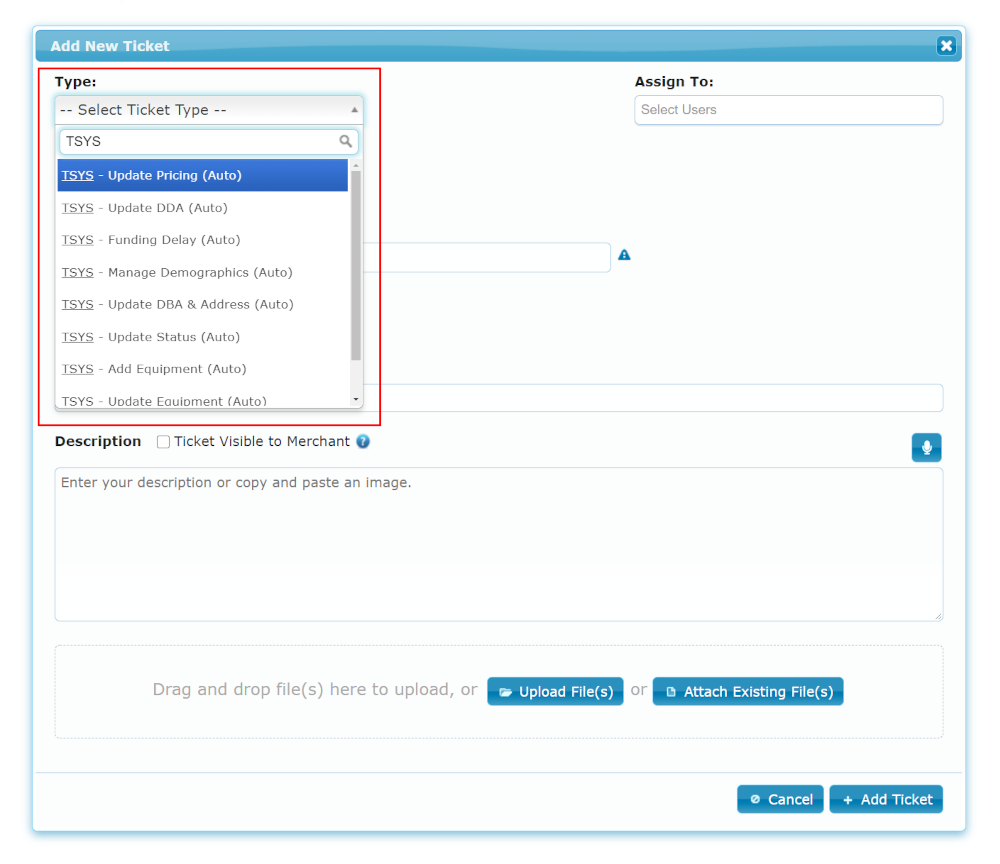 Then it's one more step to submit the ticket, which results in a corresponding form that will allow you to edit the information for the merchant and save the updated information. Once your updates are complete, the ticket will be set to "Resolved" and you can check the ticket's comments to confirm that the data was updated. Click here to learn more about TSYS real-time merchant maintenance in IRIS CRM.
To learn more about all of the benefits that IRIS CRM provides for clients, schedule a free guided demonstration today!