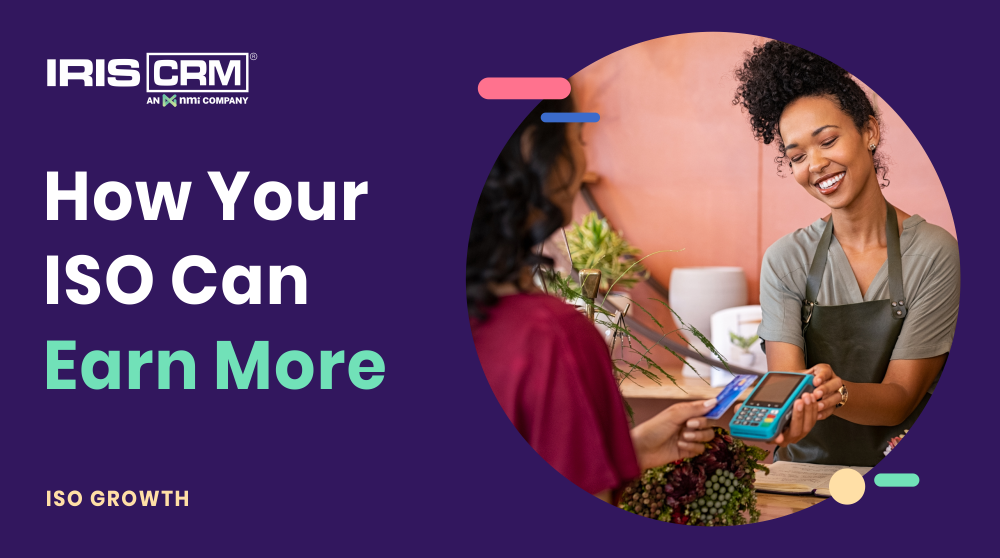 Unlocking Latent Revenue: How Your ISO Can Earn More on Each Merchant
Recruiting new merchants is so important to residuals growth that ISOs can occasionally become completely focused on looking outwards for new sources of revenue. But it's rare for any ISO's portfolio to be perfectly optimized, meaning you may find that some of the best growth opportunities available for an ISO actually come from your existing merchants. From value-rich add-on services to opportunities to improve pricing efficiency and beyond, there is latent revenue waiting to be unlocked within your current roster of merchants – the most accessible and cost-effective pool of leads you'll ever have access to. The following represent just a few of the ways you can tap into those latent opportunities to open up new revenue streams with minimal cost and effort required.  
Offer All-in-One Payments Solutions
One of the most lucrative opportunities to generate more revenue from your existing client roster is to determine what payment services they're getting from third parties and offer them yourself. Vertically integrating your payment offerings turns every merchant in your portfolio into a fresh, pre-qualified lead ideally suited to be upsold additional services they already need. There are many things merchants need to sell safely and effectively, and there's no real reason they shouldn't be getting as many as possible from you. Not only does expanding your service offerings open up new revenue streams, but it also creates a new and important source of value for your merchants: the simplicity of accessing everything they need in one place. 
Payment Gateway Reselling as an ISO
Payment gateways are the software that facilitates all electronic transactions. Whether it's a credit card tap at the store counter, an online order, or a purchase at an unattended terminal at a parking garage or vending machine, every card payment flows through a gateway. That makes gateways an ideal service to offer your customers on top of their merchant accounts. Offering both processing and a payment gateway enables your merchants to get the two biggest pieces of the selling puzzle in one place and opens up a significant new source of recurring residuals for your ISO. 
All the top gateway providers offer reseller programs that make it fast and easy to add gateways to your service offerings. As a reseller, you'll access gateway services at wholesale rates, which you can then mark up as needed to hit your revenue targets for each merchant onboarded. With NMI, you can resell an industry-leading gateway that integrates with over 200 payment processors and 125 shopping carts – an unparalleled level of flexibility. 
Value-Added Services
There are a wide variety of value-added services available that can enhance a merchant's payment capabilities. Value-added services improve core areas of payments and commerce, including transaction security, fraud prevention, invoicing, and much more. Offering these services to merchants maximizes their options, increases your ISO's value proposition, and adds potentially a dozen or more new revenue sources into your product mix. 
In many cases, value-added services can be accessed and resold directly through your ISO's gateway resale partner. For instance, NMI offers a full marketplace of add-on services that can be sold to merchants in packages or a la carte. Some of the most notable include Kount Advanced Fraud Protection, Customer Vault secure data tokenization, Level III data collection, iProcess mobile phone device payments, and more. Each can be offered to every merchant in your portfolio, and free trials are available to help demonstrate the value proposition and land the upsell. 
Identify ISO Pricing Inefficiencies
Residuals are complex. With potentially hundreds or even thousands of merchants each processing hundreds or thousands of transactions each month, it can be easy to look at the aggregate residual numbers reported by your processing partners and just assume everything is as expected. Poring over everything manually to verify your costs and earnings line-by-line just isn't practical. But the reality is that costs aren't always correct. 
Sometimes the rates your processor charges your ISO drift ever so slightly compared to what they should be, potentially eating into your profitability in a way that is imperceptible on a transaction-by-transaction basis, but makes a real difference on the whole. Or maybe a merchant isn't being charged for a service they should be for one reason or another, and your ISO is eating the wholesale rate by mistake. The problem with these kinds of variations and errors is they're so small they can be nearly impossible to detect and correct. But if you can find and fix them, you'll reclaim revenue on each merchant you previously didn't even realize you were losing.
Fortunately, tools exist to make this process not only possible, but easy. IRIS CRM's Residuals Verifier is a great example. Residuals Verifier automatically detects changes in reported fees from month to month and makes it fast and easy to zero in on what changed, and by how much. By empowering your ISO to identify changes as soon as they happen, you can correct issues with your pricing or your processing partners immediately. A better understanding of your costs and pricing across your portfolio also helps you identify inefficiencies and opportunities to bring merchants more in line with current market pricing. 
Partner with NMI and IRIS CRM Today
NMI's full commerce enablement platform offers a one-stop solution that provides everything your ISO needs to resell the flexible and reliable payment services your merchants need, in a more efficient, more profitable way. 
With NMI, you can access an industry-best payment gateway, over 200 payment processors, a complete suite of value-added features, and more, all from a single partner. As a result, you can offer your merchants a more complete set of payment services while streamlining and simplifying your ISO's backend operations.
Better still, NMI's integration of some of the industry's top systems like IRIS CRM and Agreement Express offers your ISO the ability to streamline your internal processes, significantly improving your most important tasks like lead management and sales, merchant onboarding, residuals management, and underwriting. 
To find out more about how NMI and IRIS CRM can supercharge your business, schedule a free guided demonstration today.