USAePay Direct Merchant Boarding
Board Merchants to USAePay in Seconds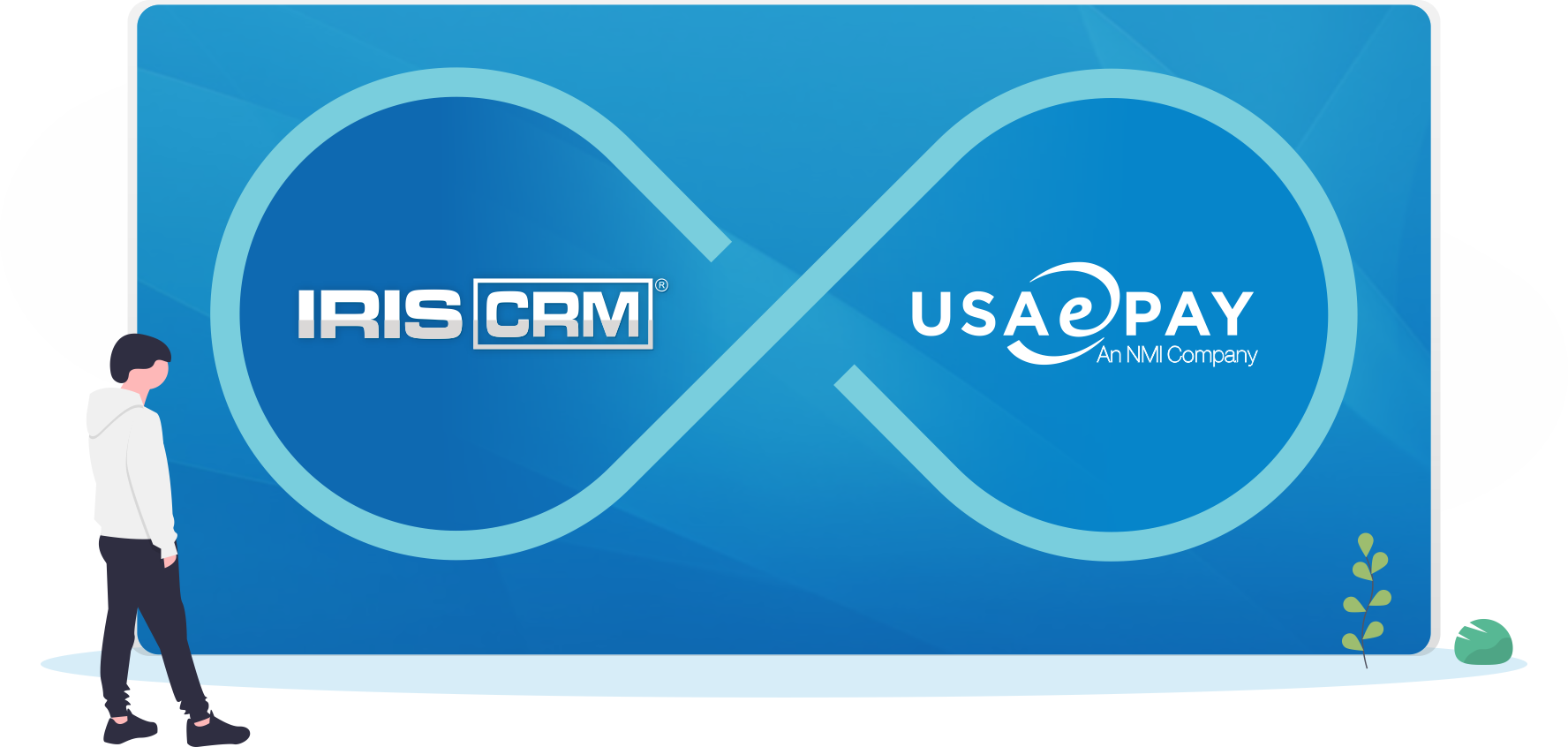 USAePay is one of the top gateway providers in the payments industry. IRIS CRM integrates directly with USAePay's merchant boarding system, allowing you to move your entire gateway resale and onboarding process directly into the CRM. IRIS CRM's USAePay integration means you will no longer have to manually enter merchant data into USAePay's boarding portal line-by-line. IRIS CRM automates most of the process using your already-stored merchant data.
The result is that IRIS CRM users can now board new merchants to USAePay in a minute or less, in three simple steps and with minimal data entry.
Partnering with USAePay is an easy choice for your ISO because your merchants need gateway services to connect their newly acquired merchant accounts to their end customers. With IRIS CRM's boarding integration, moving those value-added sales into your CRM is an equally easy choice because there is no faster or easier way to tap into the new revenue stream gateway resale represents.
IRIS CRM and USAePay Key Features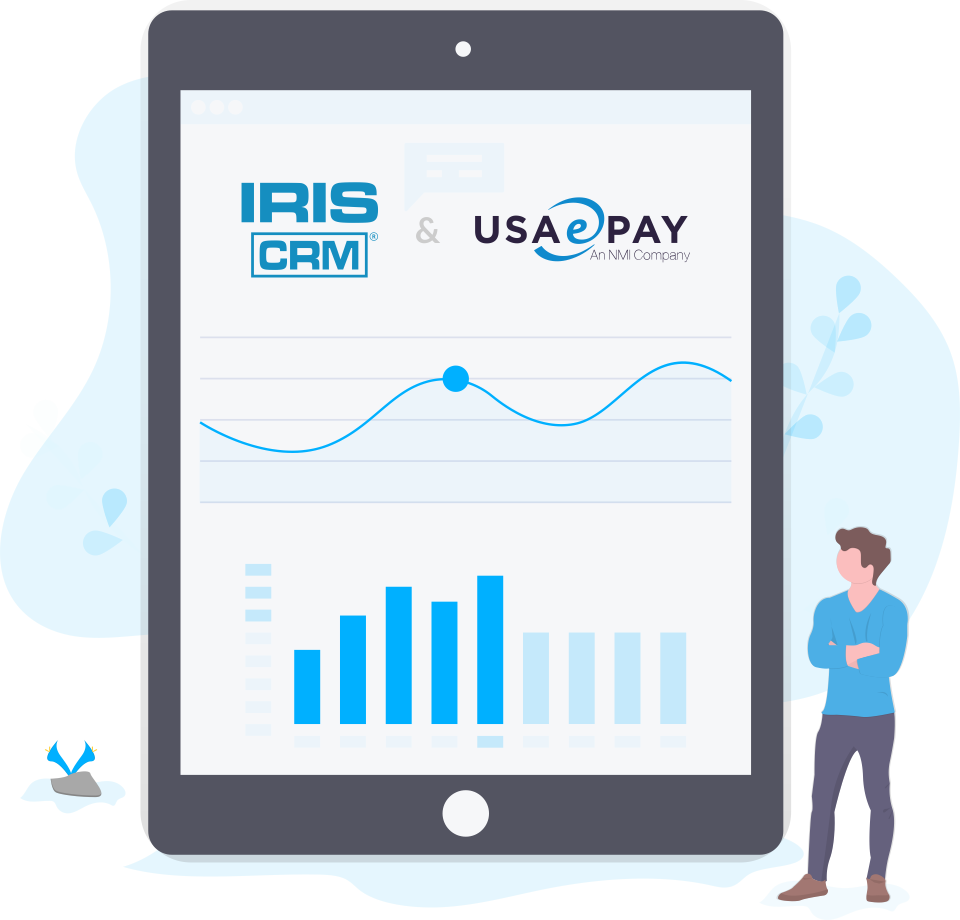 Integrate USAePay with IRIS CRM using your reseller API credentials in a matter of seconds.
Board new merchants to USAePay in a minute or less using the data already stored in the CRM.
Offer your merchants one-stop access to the industry-leading gateway solutions they need to start selling right away.
Set your own resale prices and select which gateway services are paid for by the merchant and which, if any, you pass on at no cost.
Use pre-configured service packages to speed up the process even further and make selling bundled services a breeze.
Offer value-added services that provide your merchants with extended functionality and your ISO with additional revenue streams.
Start Boarding Your USAePay Merchants with IRIS in Seconds!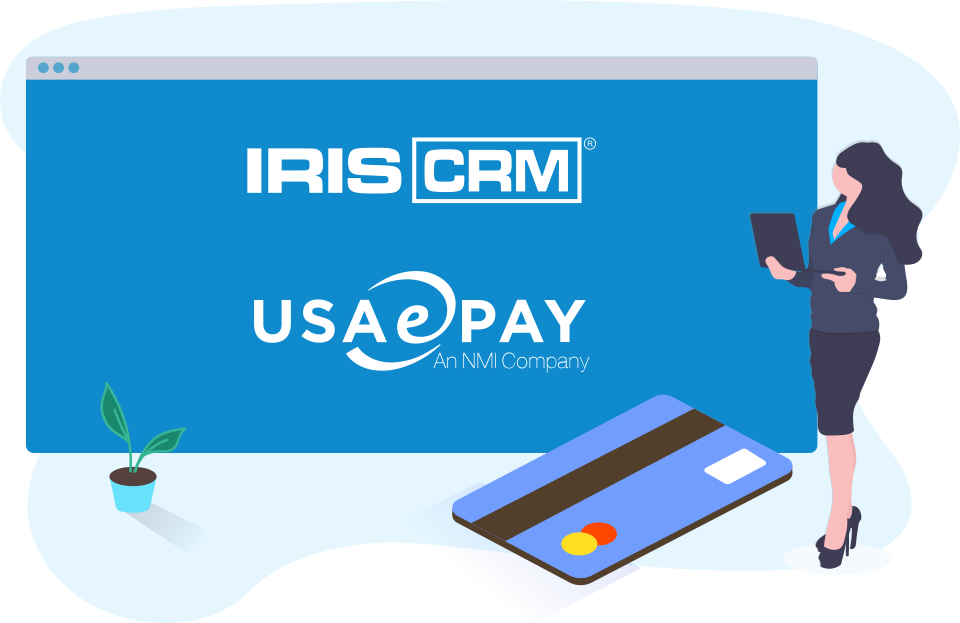 Gateway services represent a need for your merchants, and they are better off getting those services directly from you than being forced to engage a third-party. As a USAePay reseller, you are well-positioned to offer them some of the leading gateway tools available on the market. Much like boarding merchants to your payment processing partners, boarding new merchants to USAePay the traditional way is a slow and inefficient process, rife with opportunities to make costly data entry errors.
You need a faster, easier, more accurate way to handle your gateway services boarding, and that is exactly what IRIS CRM now offers with our new USAePay boarding integration.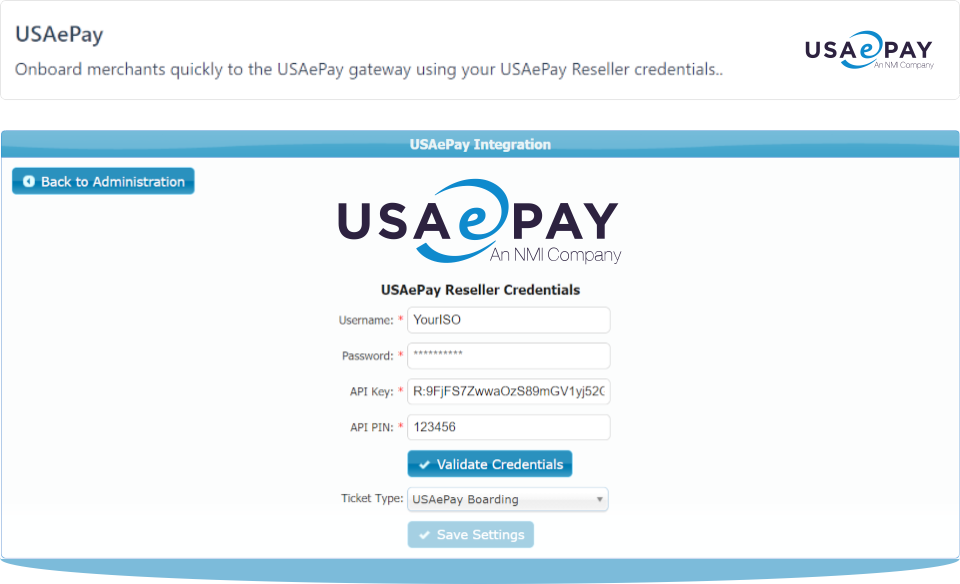 Up and Running in Seconds, Boarding in a Minute or Less!
You can set up IRIS CRM's USAePay integration in seconds with the USAePay API credentials you were provided when you signed up as a reseller. Once those API fields are entered into the system, you'll receive an instant validation confirmation and you will be ready to start boarding merchants to USAePay immediately.
With IRIS CRM, you can resell gateway services to the merchants you sign to seven of the industry's top payment processors, and onboard them to USAePay in a minute or less. Newly boarded merchants gain instant access to their new services, so your ISO can start generating new revenue immediately.
Fast. Easy. Simple. Grow with IRIS CRM's USAePay Gateway Onboarding Integration.
Integrate USAePay Gateway Services with Top Payment Processors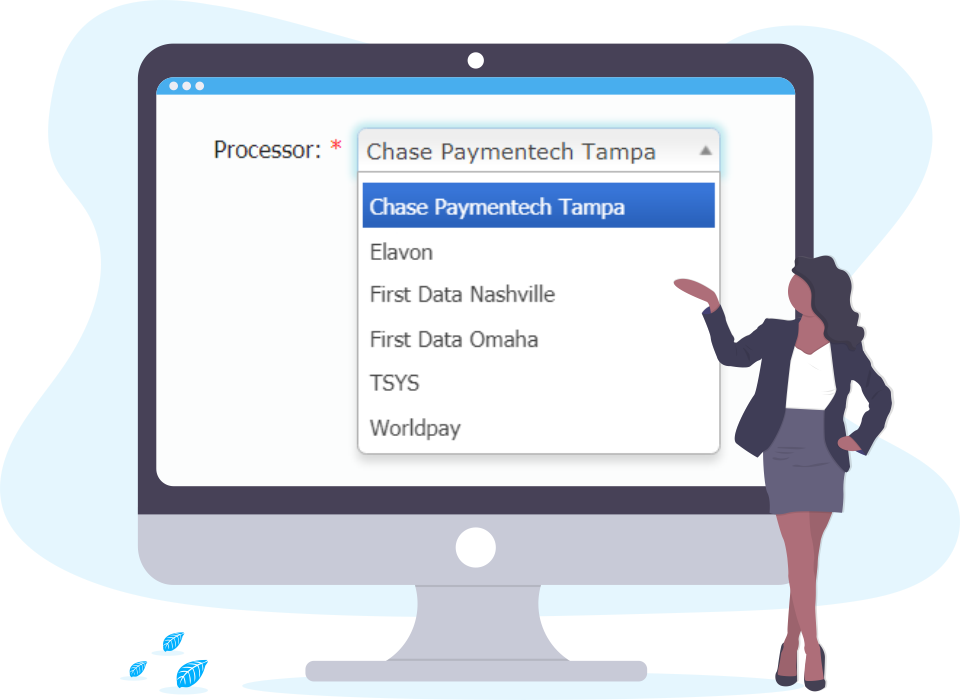 IRIS CRM's USAePay boarding integration is compatible with most of the industry's top payment processors, ensuring that you will have the option to resell USAePay gateway services to the vast majority of your merchants.
Board new gateway merchants to USAePay in a minute or less with the following top payment processors:
First Data Nashville
First Data North
Global Payments
Heartland
MerchantE
Paymentech
TSYS
Vantiv
Boarding USAePay Merchants Has Never Been Easier
Boarding a new merchant to USAePay does not have to mean looking up merchant information and painstakingly re-entering it line by line. With IRIS CRM's USAePay integration, you can board a new merchant in a minute or less using IRIS CRM's built-in ticketing system.
To get started, launch a new USAePay boarding ticket from IRIS CRM's Helpdesk dashboard or the Tickets tab within a merchant's account. From there, the entire boarding process can be completed in just three simple steps!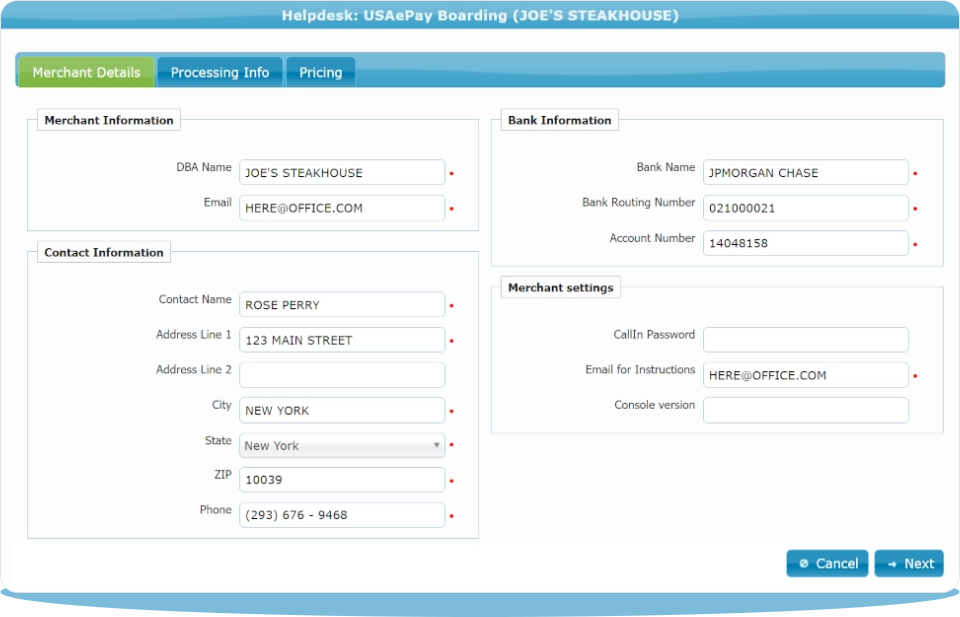 Step 1) Verify the Merchant's Account Information
Once your ticket is launched, IRIS CRM will automatically pull all the merchant's relevant data from their existing CRM account right into the designated fields.
All you have to do is look over the information to verify that it is correct and move on to step two. That is up to 15 fields of information you won't have to fill out right off the bat!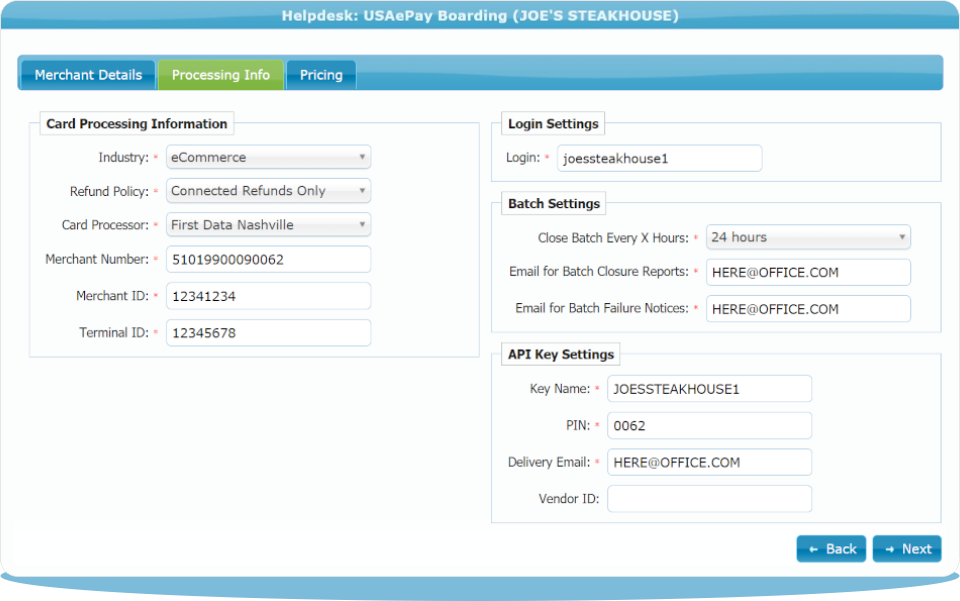 Step 2) Select the Merchant Processing Settings
Once again, IRIS CRM will pull as much stored and pre-set data as possible to automatically populate the merchant's card processing information, batch settings, and API settings, leaving you with a minimal number of fields to deal with manually.
IRIS CRM will automatically select your default refund policies, card processors, batch settings, and more. Alternatively, you can choose to select new values right there on the screen on a merchant-by-merchant basis. Enter a new USAePay login name for the merchant, ensure the API settings are entered correctly, and you're off to step three!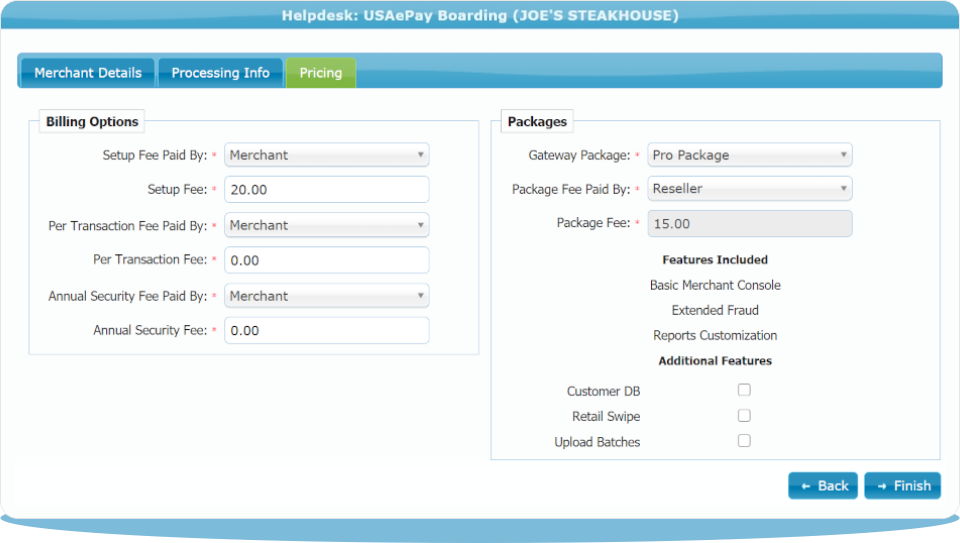 Step 3) Set Pricing and Billing Options
IRIS CRM will automatically import your default billing options including any setup fees, per-transaction fees, and annual security fees that you wish to charge new gateway users. The defaults make the process fast and easy, but all the pricing information can be changed as necessary right there on the page, including who is responsible for each charge.
From there, all that is left to do is select one of your pre-configured USAePay gateway service packages, select any additional value-added services the merchant is opting-in to, verify your package fee, and press finish!
Just like that, in three quick, easy steps, your USAePay merchant will have immediate access to their new gateway services and your ISO will have immediate access to a new source of monthly revenue. With IRIS CRM, offering additional value to your merchants has never been faster, easier, or more convenient.
Schedule your free guided demo of this easy three-step boarding process now!
USAePay Standard and Value-Added Gateway Features
USAePay's standard Merchant Console offers merchants all the key features expected of a leading payment gateway and more. Their cloud-based system is an ideal solution for merchants selling both online and in-store, and is designed to take care of everything from basic processing, to hardware management, to fraud protection, and beyond.
USAePay Merchant Console Features Include:
Value-Added Services
On top of the stock features included in Merchant Console, USAePay also offers value-added services that represent additional functionality for your merchants and the opportunity for your ISO to benefit from additional revenue-generators.

Customer Database
USAePay's Customer Database and Customer Management system allows merchants to store certain key customer data, making repeat or recurring purchases easier, minimizing the work involved in invoicing, and providing a source of valuable insight into customer behavior.
Merchants can store data covering vital information, payment methods, billing schedules, one-time "quick sale" and "quick refund" settings, and much more.

Payment Forms
Merchants can quickly create custom payment forms to enable all of their various web-based payments. Payment Forms are especially useful for merchants that need different form configurations for different types of transactions, like purchases, donations, registrations, etc.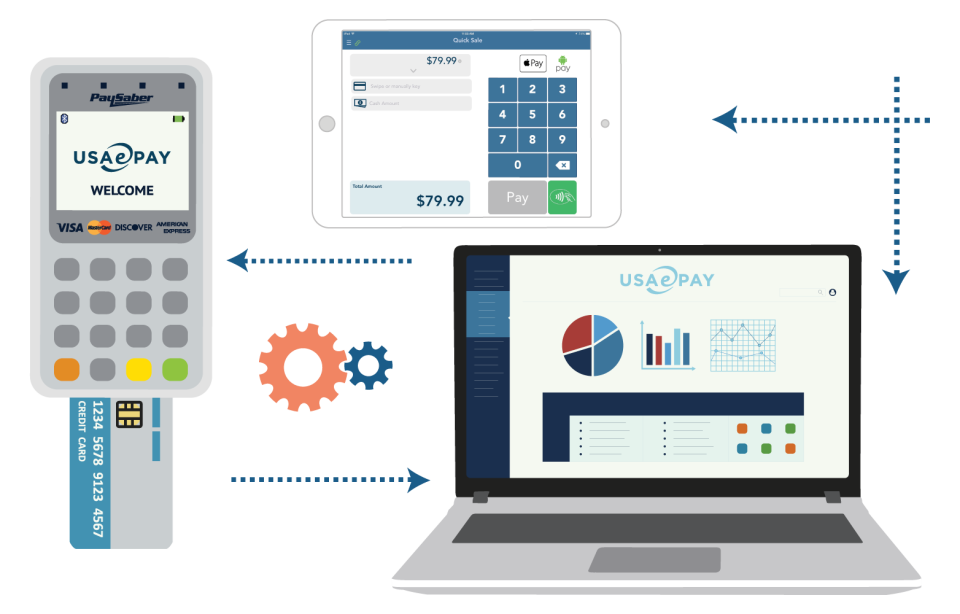 Retail Swipe
USAePay's Retail Swipe feature is designed to help merchants integrate USAePay's gateway solutions with their existing in-store hardware systems. Merchants can integrate USAePay with their point-of-sale systems and EMV payment terminals, enabling swipe and tap card payments from all the major card companies and top digital wallets. Support for multiple hardware types is offered, ensuring USAePay will work for merchants with multiple locations and a mix of existing systems.
Not already offering your merchants industry-leading USAePay gateway services? Schedule a guided demonstration to see how easy it is to get started today.
Schedule Demo