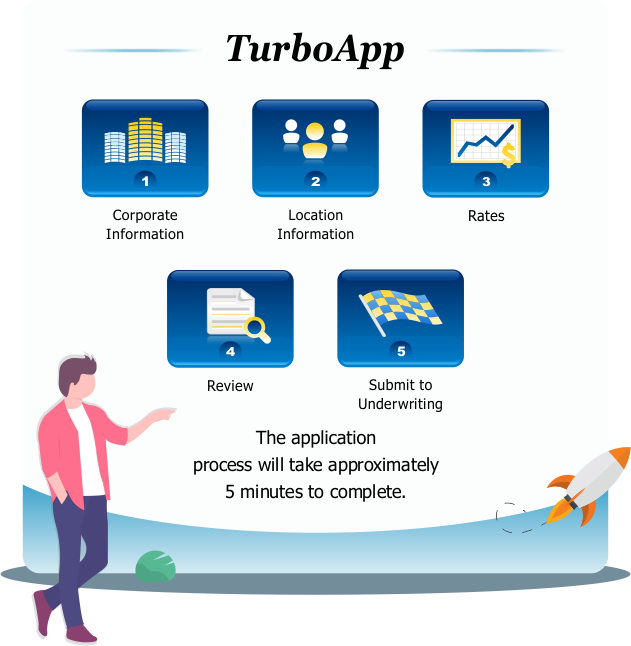 What Can TurboApp Do For Your ISO?
TurboApp is IRIS CRM's built-in automated boarding tool, which integrates with seven top payment processors and puts blazing-fast merchant onboarding at the fingertips of even the most inexperienced ISO staff. TurboApp offers ISOs like yours a wide variety of benefits, covering everything from the speed of your onboarding process, to its accuracy and success, to the cost of your boarding operations and beyond. The following is a quick recap of those benefits, and how TurboApp can change the way your ISO onboards new merchants. 
TurboApp Benefit: Speed Up Onboarding Significantly
The biggest problem with traditional onboarding is that it requires an agent or other staff member to go through a merchant's MPA and transfer the data into a processor's boarding portal line-by-line. It's an excruciatingly slow process that requires the operator to juggle information between two sources, avoid errant keystrokes, and check their work on each entry. In short, it's a job much better suited for a computer. 
TurboApp eliminates time-consuming manual data entry by pulling all the relevant data directly from a digital MPA and inserting it into the necessary fields in seconds. You can pull information from both PDF-based and web-based MPAs, and the system handles everything but the final review and submission. It even pre-configures itself to exactly match the form fields expected by the chosen processor's boarding system. 
In all, allowing TurboApp to handle MPA data entry reduces the boarding process from 30 minutes or more to five minutes or less – even for employees with little to no experience with merchant onboarding. No other boarding process can match that kind of efficiency. 
TurboApp Benefit: Reduce or Eliminate Costly Human Error
The second biggest problem with traditional onboarding is that, like all things that depend on human input, it's exceptionally error-prone. Entering dozens of data points is asking for errors at the best of times based on sheer numbers, but combine that with the fact that entering MPA data is mind-numbingly boring, and you increase the odds of error due to the human operators zoning out or rushing to finish. 
Unfortunately, even a single data entry error can be extremely costly. In the best-case scenario, an error results in the processor returning the application and asking for clarification, leading to additional work. But errors can also lead to outright denials, requiring the application to be started anew with another processor. Alternatively, the application may be accepted, but with errors in the pricing that could theoretically cost your ISO significant amounts of money. 
TurboApp enters MPA information with unparalleled accuracy time in and time out, eliminating the potential for human data entry errors. The system also allows your ISO to set pre-configured default pricing packages, minimizing the need for the operator to enter pricing information and ensuring that every application goes in with the proper fees. 
TurboApp Benefit: Reduce the Size of Your Boarding Department
Because TurboApp speeds up the boarding process by so much, it increases your ISOs boarding capacity significantly. If you're planning to grow rapidly, that extra capacity is a boon. However, if you're looking to maintain your current boarding volume, utilizing TurboApp will allow you to board the same number of merchants using far fewer person-hours and resources.
Whether your boarding is handled by your agents, your operations staff, or a specialized boarding department, adopting IRIS CRM and TurboApp allows you to redirect your staff's time away from repetitive busy work and towards more important, revenue-generating tasks. The impact that kind of resource redirection can have on your bottom line is significant. 
TurboApp Benefit: Eliminate the Need to Custom Build Boarding Integrations
Traditional manual boarding still requires interaction with some kind of boarding system. In some cases, that might be one of your employees logging into a processor portal on the web, but in most cases, it requires your ISO to build a custom software integration that connects your in-house systems with the processor's boarding systems. Custom building any kind of software is a time-consuming and expensive undertaking, especially when it's so central to your operations and requires robust design, and the development of boarding integrations can represent a major capital outlay for your ISO.  
TurboApp completely eliminates the need for custom integrations with seven of the industry's top payment processors:
Fiserv AccessOne Omaha for Retail ISOs, Wholesale ISOs & FSPs (formerly First Data Omaha)

Fiserv AccessOne North for Retail ISOs, Wholesale ISOs & FSPs (formerly First Data North)

TSYS ELAPP for Retail ISOs

TSYS Express & PPM for Wholesale ISOs

Paysafe iAccess

Priority Payments VIMAS for Wholesale ISOs

Worldpay MAG (formerly Vantiv)
IRIS CRM partners with each one, whose in-house teams verify that TurboApp is seamlessly integrated with their systems, ensuring that your ISO will be able to start using TurboApp right out of the box, with no programming or IT expertise required. 
TurboApp Benefit: Eliminate Ongoing System Maintenance
Another major problem with custom boarding integrations is that they require constant maintenance. Processors make small adjustments to their portals regularly, and each time they do, your ISO's custom programmed integrations need to be updated and retested, requiring you to either maintain a team of programmers on staff, or engage contractors over and over again. In either case, it isn't cheap. 
With TurboApp, IRIS CRM stays on top of each and every change our processing partners make to their boarding portals, and the IRIS CRM team ensures TurboApp is swiftly updated. IRIS CRM and the processors work together to ensure TurboApp has been updated prior to any changes in their systems going live so that validation can be done and the changes rolled out to you, the end-user, right on time, resulting in zero interruption in your ability to board new merchants. 
TurboApp is the fastest, most effective, and easiest to use boarding solution available to ISOs today, and its features effectively make the traditional manual onboarding process obsolete. To find out more about how TurboApp and the full IRIS CRM suite of tools can help your ISO save time and money, schedule a free guided demonstration of IRIS CRM today.